As Italy continued to open up its regions after the Coronavirus shutdown, we left the Lombardy region to visit nearby towns accessible by train. Padova was on our list because of its famous botanical gardens and the Cappella degli Scrovegni where renowned frescoes by Giotto adorned the walls.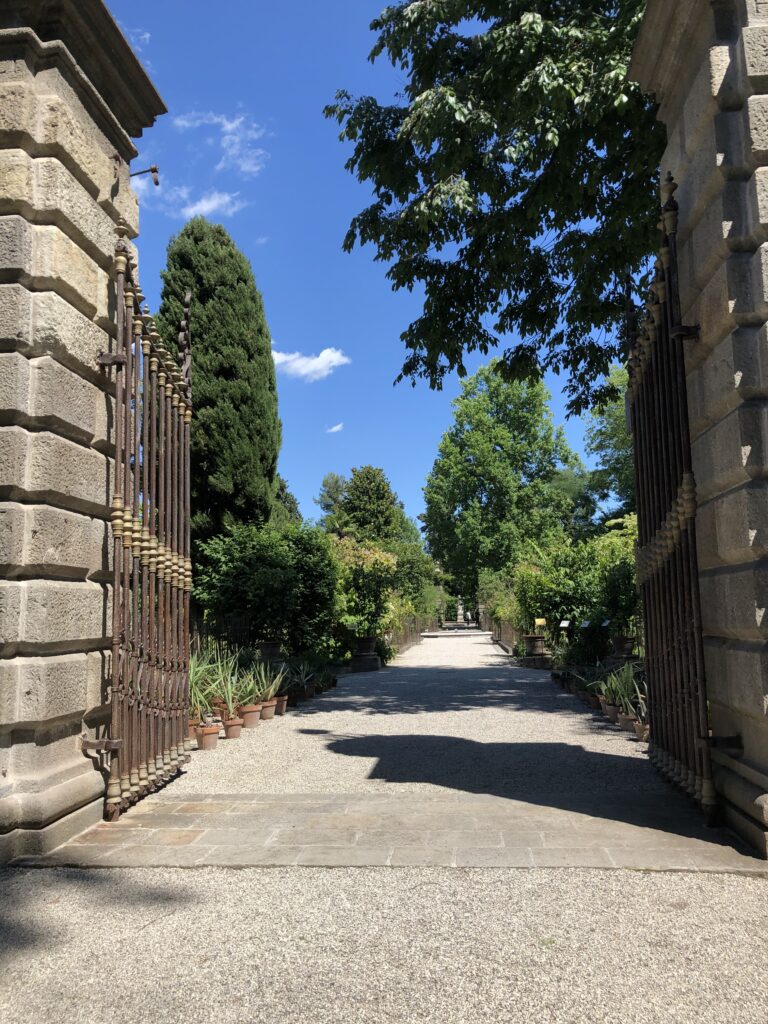 Another reason to visit Padova is because it is the launching site for a guided river tour along the Brenta River (http://www.ilburchiello.it/), from Padua to Venice, highlighting villas and adjoining gardens built by wealthy Venetian families to escape the summer heat of Venice hundreds of years ago. See my blog on Il Burchiello for more on the tour and the villas we saw.https://mcmahonsonthemove.com/il-burchiello:-a-tour-of-the-venetian-villas-along-the-brenta-river/
A number of my Italian friends recommended this river tour, so I booked a reservation as soon as tours began and in fact, our trip was the first tour to run after the Covid shutdown.
We were a little nervous about taking a train so soon after the opening of the Covid confinement, but the train system worked well. There were few people traveling. At Milano Centrale, our temperature was checked as we walked into the train station. All seats were reserved and when four seats were together (two on each side opposite a table), one on each side was blocked from use and masks were required to be worn at all times (except when eating or drinking). Instead of a bar cart where one could select drinks, as we boarded the train, we were given a paper sack with a can of water, a new medical mask and hand sanitizer wipes. The bar cart stopped by with a choice of sweet or savory snacks in a sealed plastic bag. No one checked our tickets, but an employee walked through periodically to check that everyone was wearing a mask.
As has been the case for most of June and July immediately after the relaxing of restrictions, open hotels were few and far between. We checked for Padova hotels online and in my trusty Italy Michelin Guide and discovered that an apartment connected to the hotel Belludi 37 was open and available. (https://www.collezionebelludi.it/struttura/belludi-37/) From the moment I reached out to the hotel asking about accommodations, the owners, Mauro Voltoline and Andrea Lopes, went out of their way to help us with every little need. They secured for us the 48 hour Padova card ( 16 euros) that gives you free use of city public transport and access to almost all of Padova's museums (at free or reduced cost) and even a discount to the Burchiello river tour we had already booked. The apartment was perfect, with a small refrigerator, sink, stove and seating area. All reviews indicate that the hotel rooms themselves are nice, but I can't imagine being at a nicer spot than the apartment just a short walk from the hotel. The owners also secured a guide for us, reservations at the Cappella degli Scrovegni and the Botanical Gardens, an early taxi for our morning trip to the river for the tour, as well as reservations to two terrific dinner spots; Ai Navigli https://www.ainavigli.com/ (modern design, great seafood dishes) and Belle Parti https://www.ristorantebelleparti.it/it/ (what one imagines a great, established Italian restaurant should look like- beautiful wood, excellent service and food). I highly recommend the hotel Belludi37 for its location, terrific management/ownership, and cleanliness.
The Capella degli Scrovegni http://www.cappelladegliscrovegni.it/index.php/en/ is a small chapel which looks nondescript from the outside but will blow you away with its vivid colors and incredible artistry. The ticketing experience is similar to the Last Supper in Milan. You must reserve your ticket in advance and very few people are allowed in at the same time- through a secured door that is designed to eliminate harmful pollutants, with limited time to view the frescoes. There is a nice video in Italian (with English subtitles) describing the history of the chapel and Giotto. The frescoes tell the story of Jesus Christ from Annunciation to Ascension, and it took Giotto two years (1303 to 1305) to paint. The colors are incredible and the frescoes mark the end of the Dark Ages and the beginning of the Renaissance period in the eyes of many scholars because of their humanistic portrayals of Jesus and depictions of saints and biblical figures in recognizable settings. One sees Jesus staring down at Judas before the famous kiss of betrayal, and middle-aged Anne tenderly kissing Joachim. Emotions such as these had not been painted and displayed to the public before Giotto. When you observe the large fresco on one full wall displaying the Final Judgment, you can't help but think that Michelangelo heard of this fresco and was influenced by its depiction.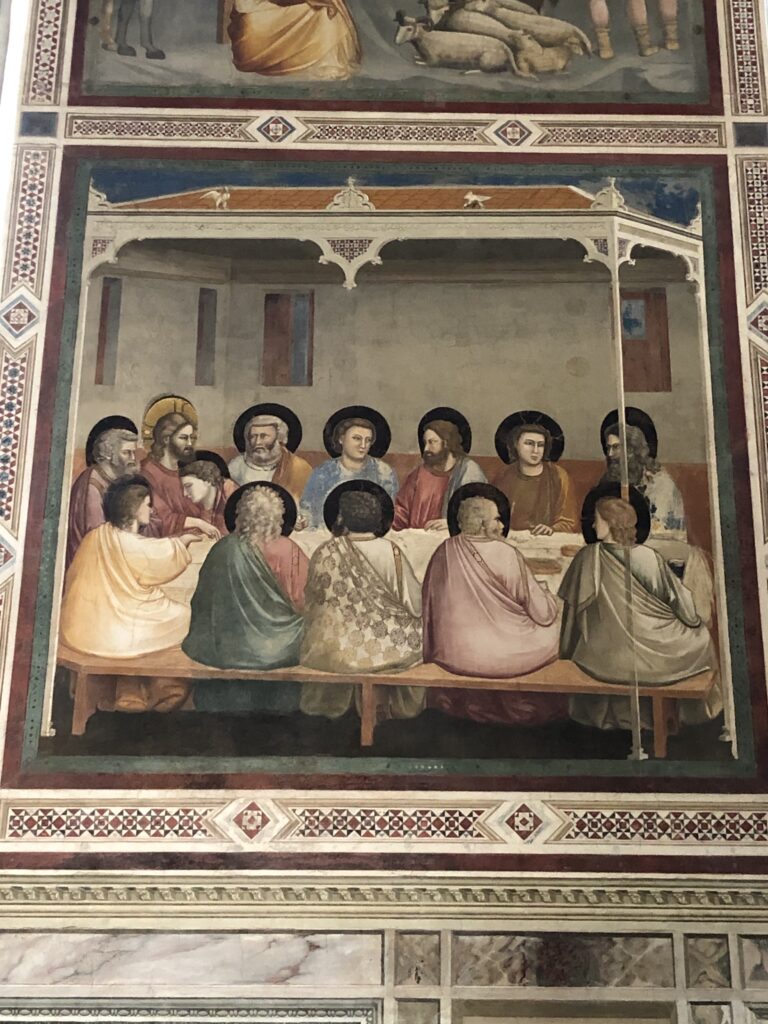 We saw other interesting sights in Padova- the very plain church called the Abbey of Saint Giustina where Saint Luke is supposedly buried, the ornate Basilica di Sant'Antonio with scary relics of Saint Anthony on display (I will leave it at that), and the Palazzo della Ragione (if we hadn't been with a guide explaining this large open space, I don't think we would have appreciated it as much- it is where justice was meted out by judges sitting behind tables placed around the large rectangular room. Because most people were illiterate, the people coming to 'court' would be told to go to the judge underneath a certain symbol, like the eagle, painted above the tables on the room walls. There is also a block where people who couldn't pay their debts were forced to sit above the crowds as a method of public shaming rather than being imprisoned). There is much more in Padova than I had imagined.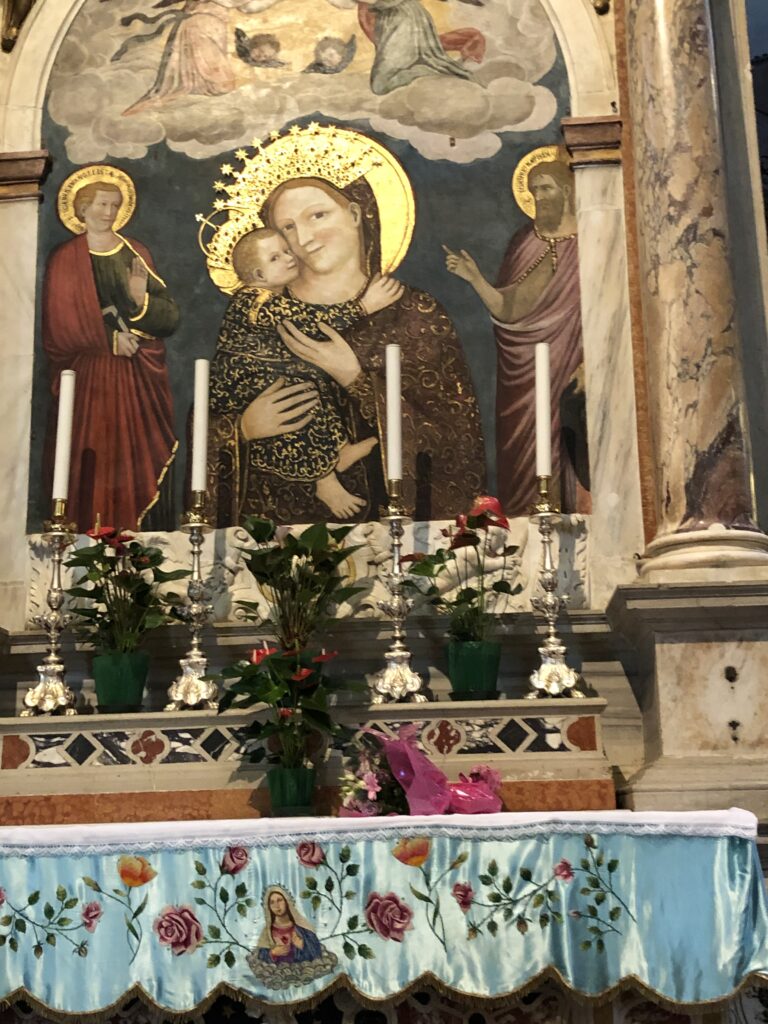 The other main reason we wanted to spend several days in Padova is the botanical garden planted in 1545 by Padova University's medical faculty to study the medicinal properties of rare plants. http://www.ortobotanicopd.it/. Within the Botanical Garden is also a high-tech Garden of Biodiversity which contains five connected greenhouses with different climate zones. One outdoor section of the garden contains highly poisonous plants, displayed by level of their toxicity through asterisks on the sign. I couldn't read one of the signs because a toxic plant had grown over it, and I took my hand to brush away the plant's leaves to read the sign. Kevin was sure I would be struck sick due to touching the plant. I admit, not my smartest move, but I survived touching the plant!
Padova has a very large open elliptical space called the Prato delle Valle where a large open air market occurs once a week. It is beautiful to walk around at night. There are 78 statues on pedestals of famous Padova people, and 10 empty pedestals that once held statues of Venetian doges. Guess who had them removed? Napoleon after he conquered Venice in 1797. One can never get too far away from the influences of Napoleon in northern Italy!