Among the many benefits of simply living in Italy rather than visiting for a short period is that a friend can call and say she wants to go to Parma for lunch, and the next day we can hop on a train and experience a new city!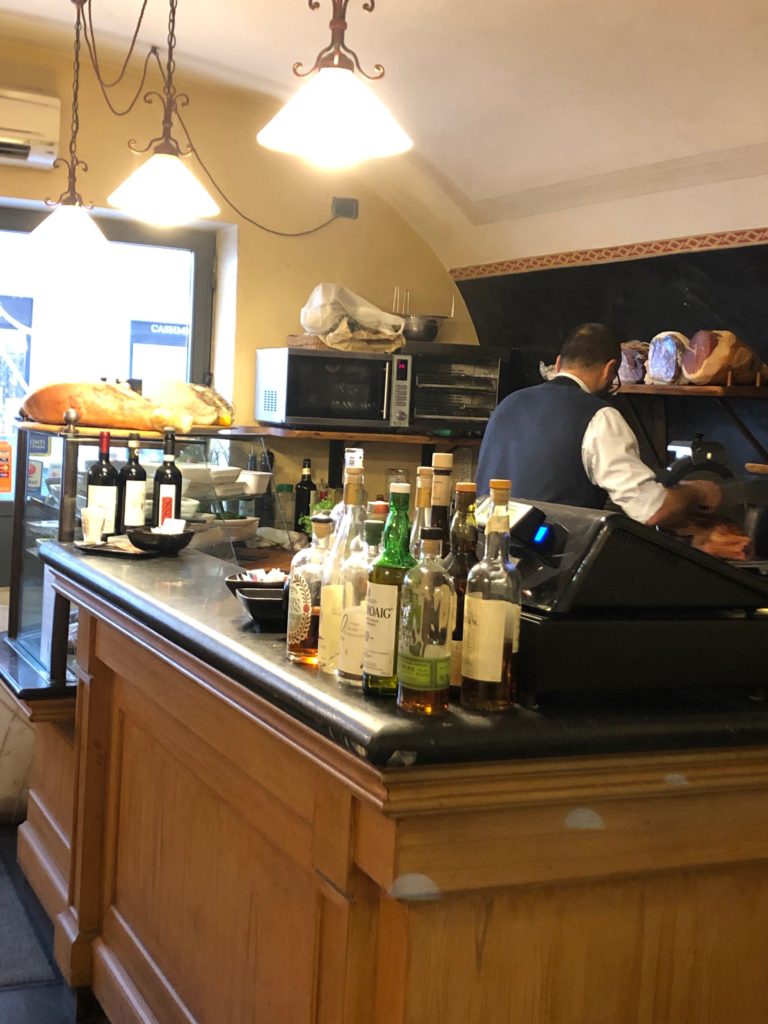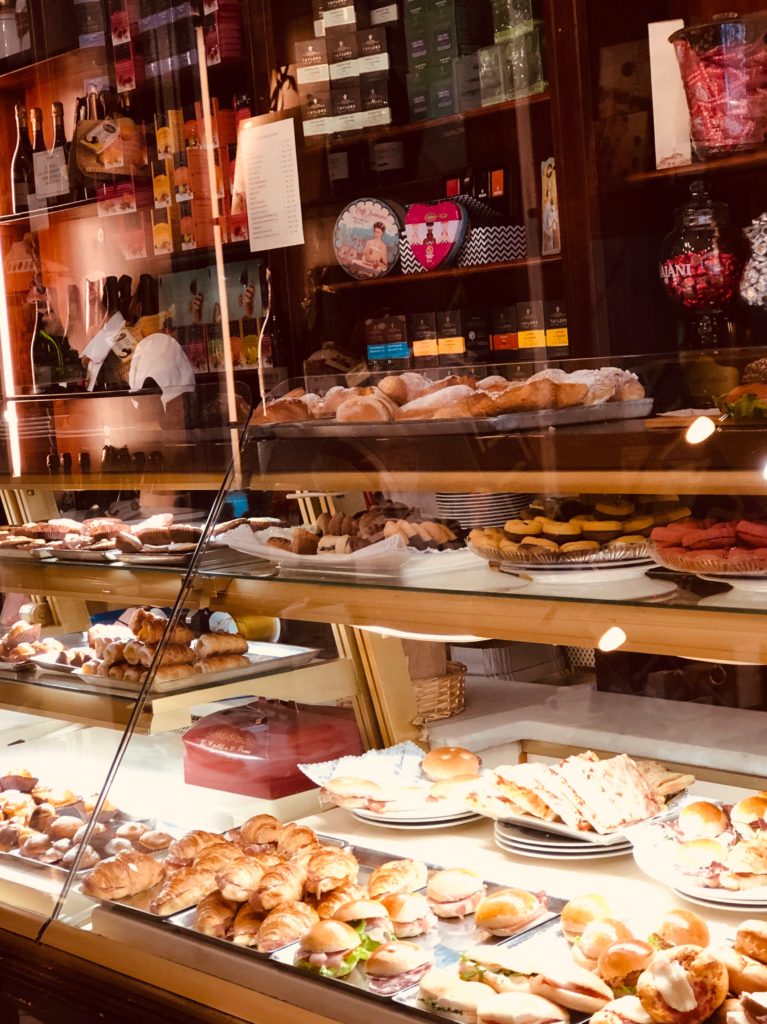 With little time to study my next new destination, I did some quick research online and found two short articles worth reading:
https://www.thecrazytourist.com/15-best-things-parma-italy/
https://www.travelandleisure.com/trip-ideas/bertazzoni-parma
The train trip to Parma was uneventful- travelling from our centrally located apartment is about as painless as it can get. One hundred yards from our front door is the Porta Romana metro stop, where we hop on and arrive directly at the main train station 7 stops later.
Reading multiple articles allows me to see the traditional favorites, but also provides hope that one or two lesser known spots will strike the author's fancy. I like to hit the major attractions, of course, but the magic of our long stay here is that we will be able to return to nearby towns and dig deeper. Plus, with people planning to visit us, I want to provide our friends and family the same excitement we get when we find a hidden gem away from the crowds.
It was a surprisingly frosty view outside with what looked like a light dusting of snow on the fields around us as we made our way to Parma. Arrival time was 11 am and with no lunch reservations (but a handful of restaurants recommended by friends who have visited Parma before us), we set out.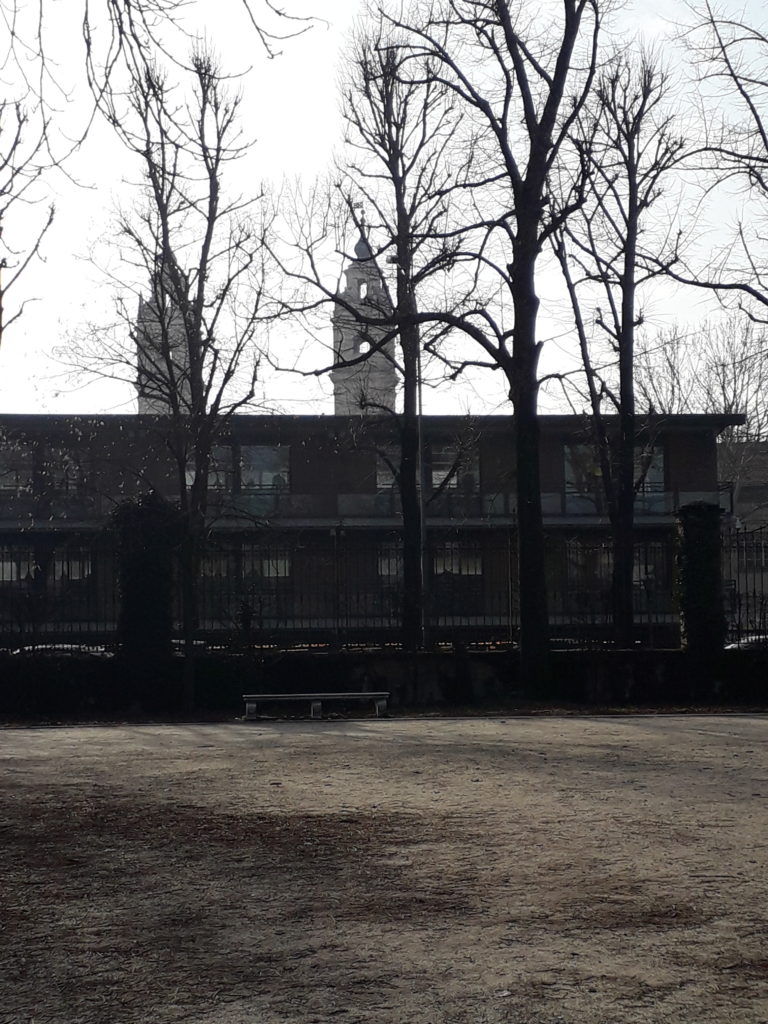 One of the places recommended by The Crazy Tourist article above was the Parco Ducale, a large park across a small river. We decided to make a detour across the river and away from the main section of town, starting on the far side and walking our way back towards the center piazzas. Being winter, the trees and bushes were pretty bare, but we could tell that it must be a beautiful place to stroll and enjoy the weather on a spring or fall day when the foliage is in full bloom. Within the park is a small body of water (too small to be a lake, too large to be a pond!) with a patch of land in the middle where a pretty fountain piece called the Fontana del Trianon sits. The main avenue of the park runs from this fountain towards the river, so we ventured around the fountain, enjoyed its beauty and walked on.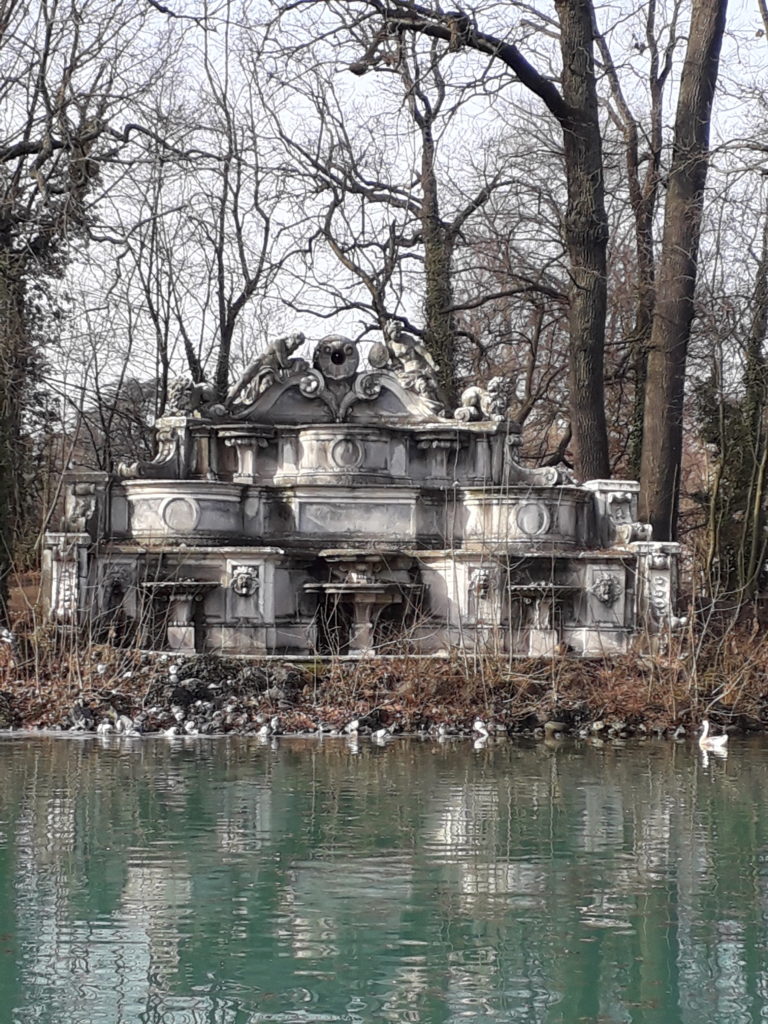 By then, it was time to get serious about where we were going to have lunch- after all, this was the main mission of my friend, to have lunch in Parma, which is widely considered to be the gastronomical capital of Italy. In fact, UNESCO named Parma "Creative City for Gastronomy," the first city in Italy to obtain this honor.
We settled on trying Angiol D'Or first. http://www.angioldor.it
I had read good reviews about it and it is located at the corner of one of the main piazzas by the Parma Cathedral. It is Michelin rated and Mario Batali's Guide to Emilia-Romagna lists it as one of the two restaurants he recommends in Parma. Here's a tip for you- like many museums, a number of restaurants are closed on Mondays, so when I tried to make a reservation Monday night (we went on a Tuesday), the restaurant was closed and it didn't offer online reservations. We knew we were taking a chance with no reservations, but we figured that at this time of year, we could find some place that would be exceptional no matter what. We were right.
We walked up to Angiol D'Or right at noon (opening time), only to find the doors shut and the restaurant looking closed. A nice woman opened the door for us and explained that the restaurant had been closed for the low winter season for cleaning, and it would open that evening. We explained that we were only there for the day, and she nicely suggested two alternative restaurants nearby; one more casual with pizza choices, and the other with more traditional Parma cuisine. We thanked her and headed to the traditional restaurant.
On the back side of the Parma Cathedral, and around the corner from the Church of St. John the Evangelist, we found our spot: Osteria dello Zingaro. They don't have a website, but they have a facebook page (Osteria Dello Zingaro-Ristoranti E Pizzerie). The address is Borgo del Corregio, 5/B, 43121, Parma. Tel. 0521.207483. Why do I go to the trouble of giving you all this information? Because this small, charming place is exactly where the locals go, with opinionated wait staff who will guide you with suggestions on what to eat, and where you really feel like you are in a magical place. Google it for reviews and articles written about it in various magazines.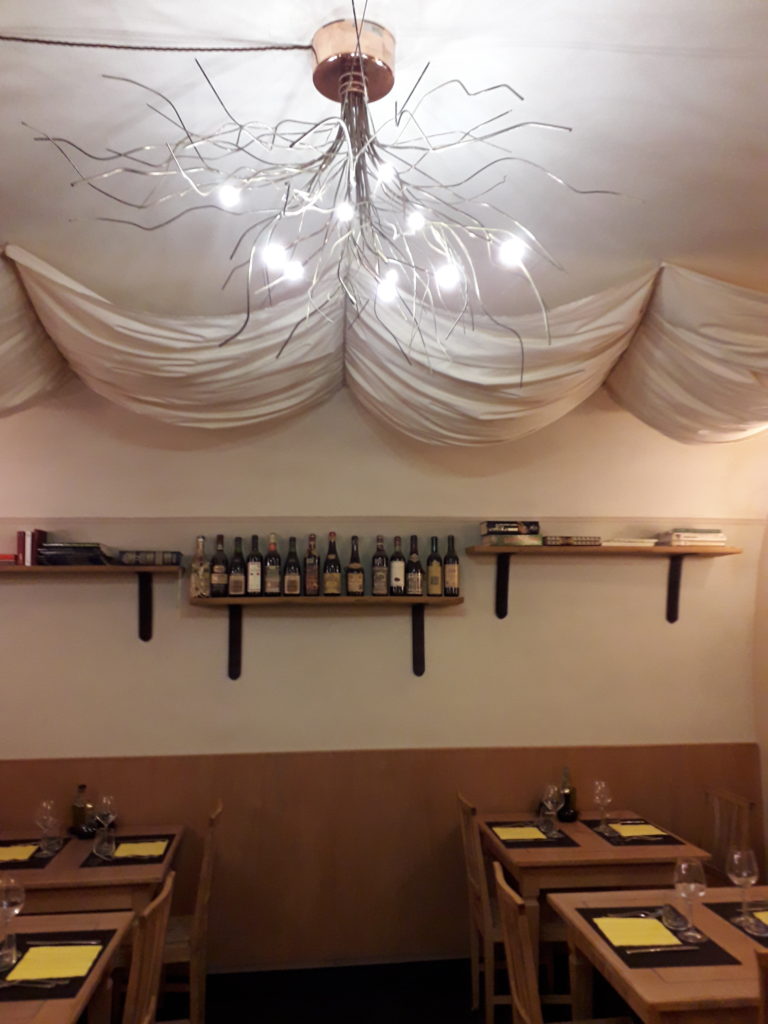 Even the smallest of restaurants in Italy seem to emphasize beautiful designs. Here we sat under a beautiful chandelier that would have fit right in at the finest of homes. We got there shortly after they opened and were the first ones seated.
Having read the Travel +Leisure article referenced above describing tips on the best way to experience Parma by a local (based on an interview with Valentina Bertazzoni, a 6th generation Parma resident), I was thrilled when the menu offered the particular locally grown wine she lists as her favorite. Lambrusco is a fizzy, low-alcohol wine and Ms. Bertazzoni's suggested preference is Otello, produced by Cantine Ceci S.P.A. in Torrile. Our only choice was to buy this by the bottle (a whopping 13 euros, I say sarcastically), so we ordered the wine and explored the menu.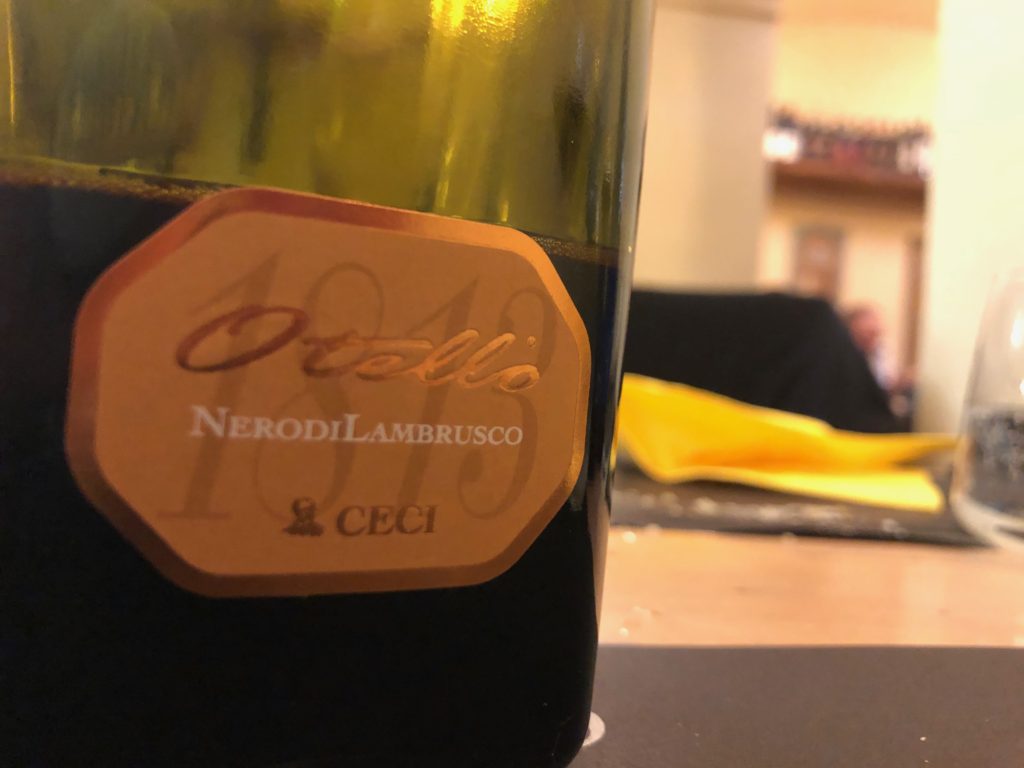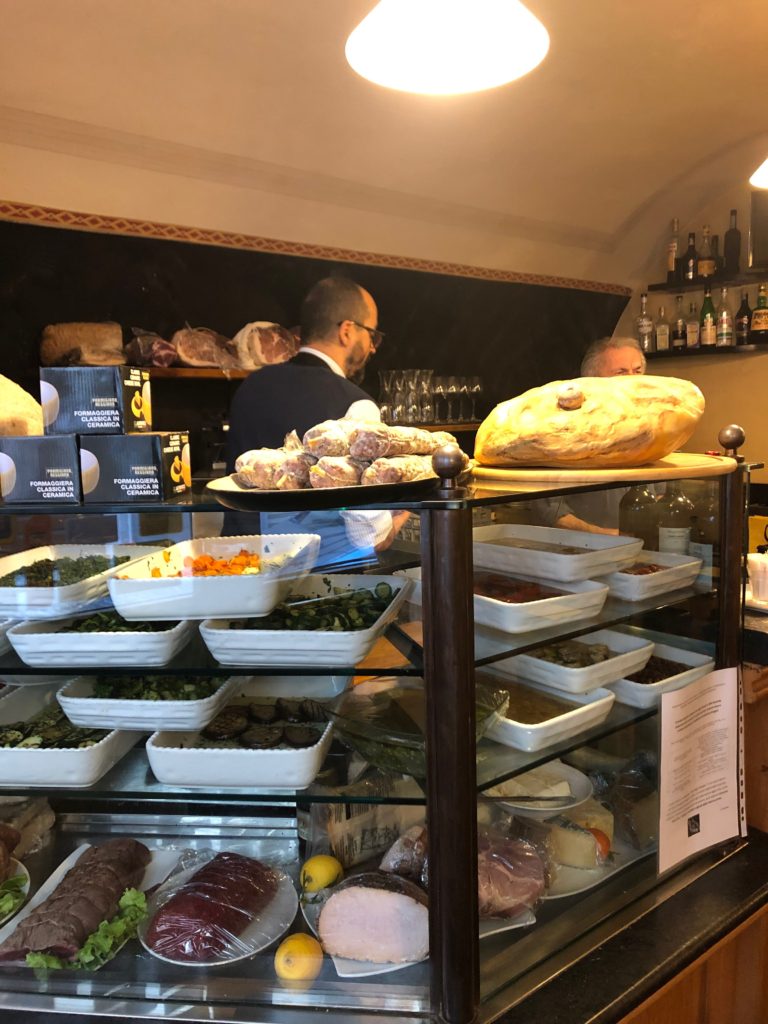 If you don't know this already, this area is known both for its ham, known as prosciutto di Parma, and of course, Parmagiano-Reggiano cheese. Both are aged and Ms. Bertazzoni prefers each of them aged 30 months (this will be relevant later). Perusing the menu, we settled on an antipasto of 6 different types of ham, then we selected a ravioli dish and a risotto. Another tip: go to Parma with someone who will share their plate of food with you! There are too many choices not to sample multiple items!
The ravioli choices were pumpkin or spinach, but the waiter suggested we try half and half, which sounded great to me. My friend ordered a risotto with sausage. Bread arrived and we settled into drinking our wine and watching the restaurant fill up with locals.
The appetizer was delicious and allowed us to sample different types of prosciutto. There was no doubt which one was the prized prosciutto- it was velvety soft and melted in your mouth. My friend poured some balsamic vinegar on her plate to dip her bread in, and the observant waiter strolled by, saw this apparently egregious act, and said "No, no, no." He quickly reappeared with a second empty plate and making it very clear that it would be a grave error for the vinegar to even TOUCH the ham slices. He took all the ham slices on her plate and moved them to the clean plate and I'm sure we were chastised in Italian for committing such a faux-pas. We don't know enough Italian to explain that she had done that for the bread, so we took the gentle scolding and moved on. They have great pride in their delicious food and I don't mind it at all.
The ravioli and risotto were both heavenly. A large dish of grated parmesan cheese appeared for the risotto, and I have to say, these simple dishes were beyond excellent. We shared our plates and ate with sheer joy. If you want to please your waiter, tell him the food is "delizioso". We did!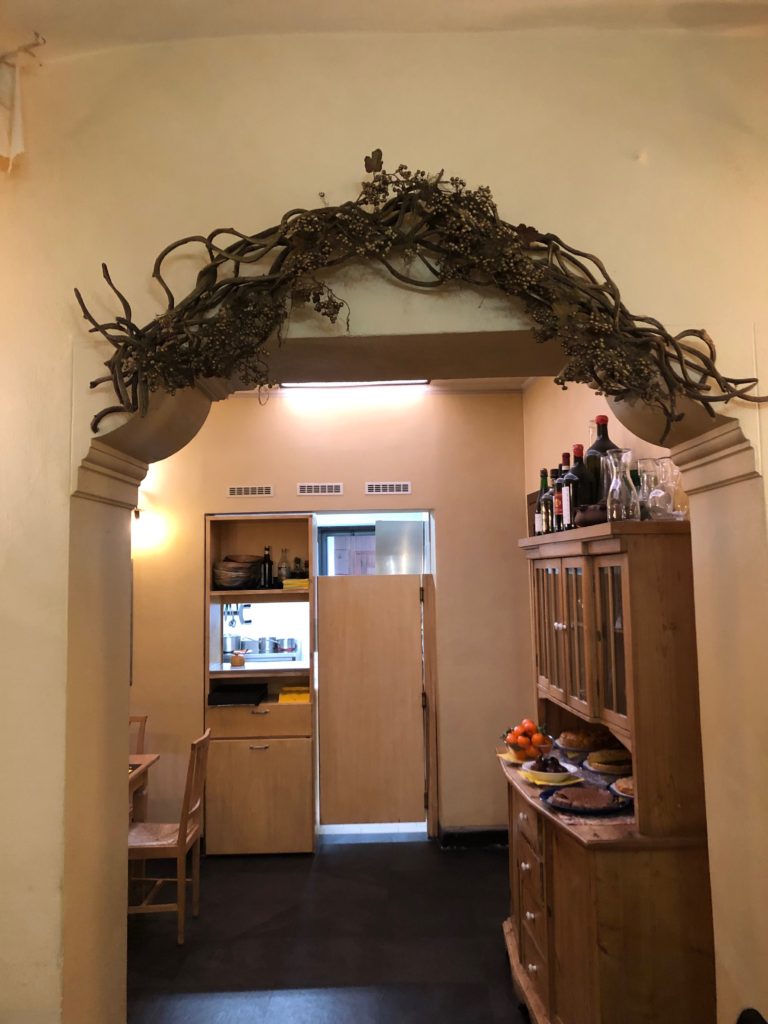 With the wine bottle only slowly depleting, we decided to make this delicious meal last longer and we asked about dessert ("dolci"). There isn't a menu for dessert- you just go to where the dessert is laid out and point to what you want. The waiter explained each item (all of this in Italian, mind you), which included a flourless chocolate torte, a chocolate cake with a layer of some type of cream cheese, clementines (please! how could we order those? I can get those in Milan!) Their signature dish was pears soaked or baked in a wine and then served flambe-style at the table. We picked the two chocolate dishes and happily ate and continued to work our way through the wine. The front of the restaurant had a glass display of the various hams, cheeses and other dishes. We debated about whether to buy some of the Parma ham there to take home with us, but instead we finally surrendered and closed out our bill. The bottle won- we couldn't finish it.
I will save our post-lunch, non-food destinations, for another blog. See Perusing Parma-the Sights! We DID walk off our long lunch by strolling through some churches and piazzas, but what else did we do?? That's right, we sought out more food! Since we didn't have a coffee with our meal after lunch (we intended to have one, but I jumped the gun on paying our bill- after all, it had been almost 2 hours!), and since Ms. Bertazzoni also mentioned her favorite pastry shop in the article, we ventured there and had a cream filled pastry with an espresso. Don't judge us! It was a tiny puff pastry, I promise, one for each of us, and it was divine. This spot also doesn't appear to have a website at this time, so write this down: Pasticceria Cocconi, Strade della Repubblica, 22. You can find reviews online, but trust us, it was worth the trip. Again, the chandelier and decor were beautiful.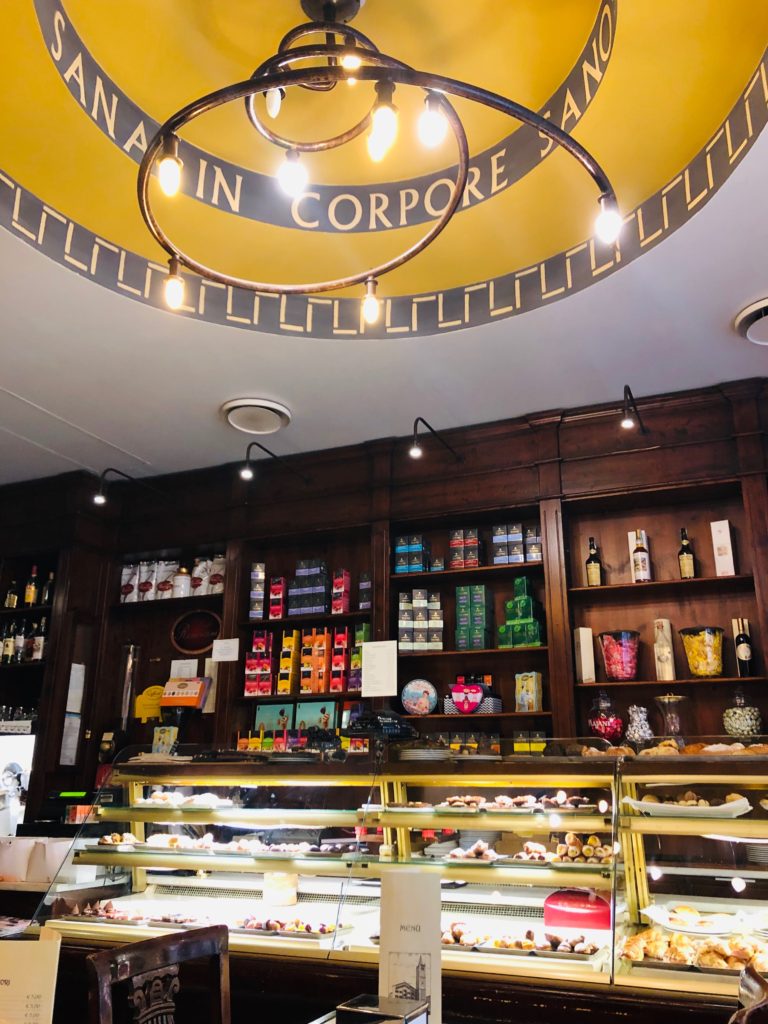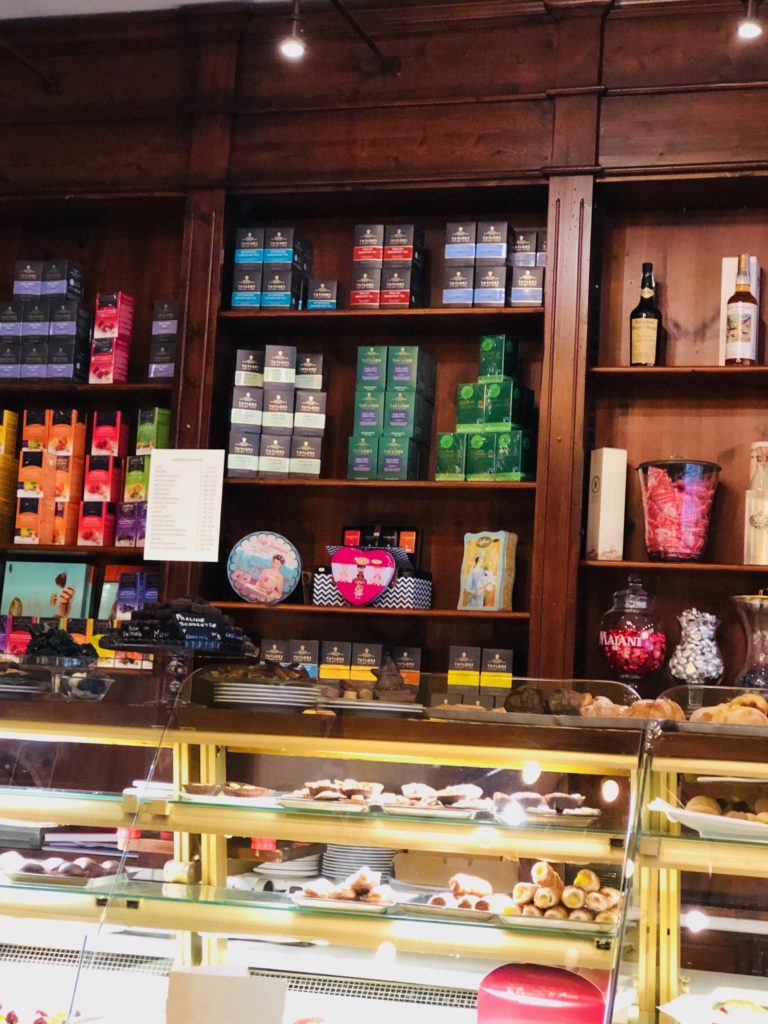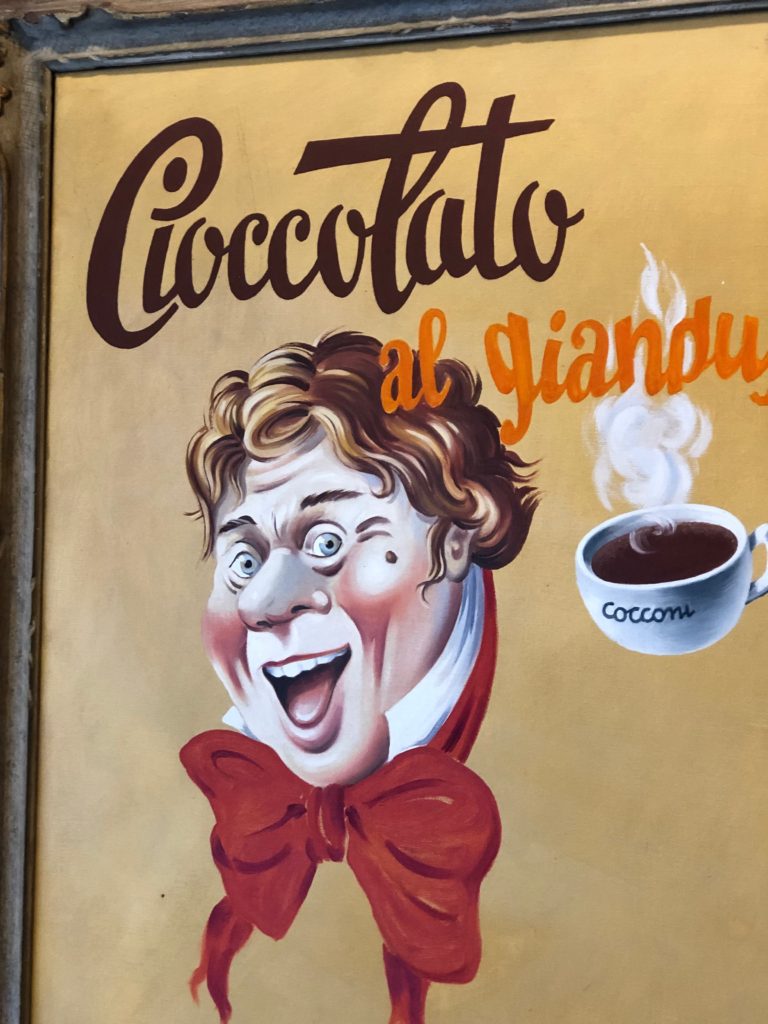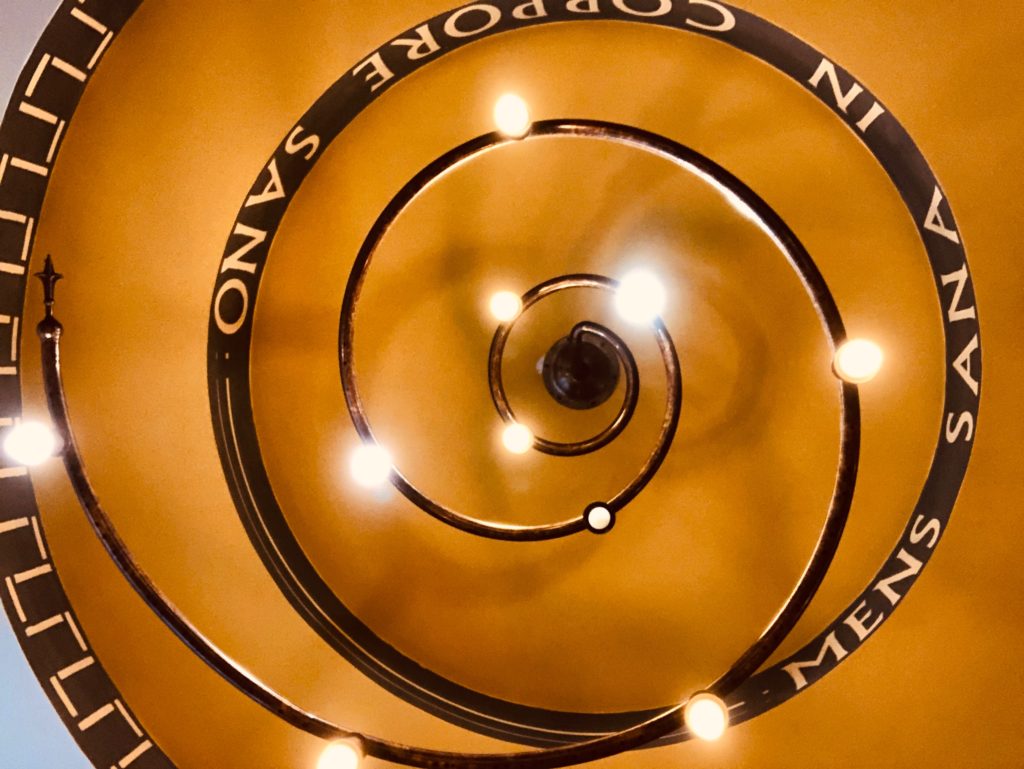 We enjoyed another break and then began our walk back to the train station. One more museum to pop into, and then as we almost arrived at the station, a charming salumeria caught our eye and we decided we had a few minutes to spare to check out the proscuitto.
Another tip: No one is in a hurry in Italy. As the minutes slowly ticked by and the man behind the counter took his time waiting on the person before us, we browsed around and found the Otello wine we enjoyed at lunch (the winery also harvests a white and a rose wine). We each selected a bottle (a mere 8 euros!), and finally it was our turn to ask about the proscuitto. I decided to get a seal-packed larger piece, but my friend wanted some proscuitto freshly sliced. The first question the man asked was whether she wanted 24 or 30 months aged. My friend looked at me for guidance and I said, "30 months!" See, the article paid off again! She ordered several slices (let me tell you, having to describe by weight how much you want in Italian is not something I have yet mastered. Kevin comes home Friday afternoon afraid of what I have bought at the local market because all I know how to say is 'mezzokilo'. That's a lot of produce!!!)
Time was ticking and we raced to the station, arriving in time, but to our dismay, when the train arrived, it was a little late and we made the rookie mistake of not hopping onto the train first and then walking back to our seats. The train was not in the station 3 minutes before the doors locked shut and we were left standing outside, shocked that the train pulled out without us. And we were right there! You live, you learn. The day was wonderful. We saw the major sights and ate the most wonderful lunch. I will come again, with Kevin, and maybe we will stay for the night. On Wednesdays and Saturdays there's a market with fresh food that is highly recommended. Maybe a weekend trip is in store for me next! Buon appetito!