After a few days in Taormina, we packed up and headed to Central Sicily with anticipation. On our list: touring the Greek ruins of Agrigento; staying at an agritourism site; enjoying a visit to Racalmuto (childhood home of Kevin's grandfather); and stopping in the famous ceramics town of Caltagirone.
Mandranova

Agrigento

Caltigirone

Temple of the Gods
As we drove south from Taormina, past Catania, we couldn't help but feel the powerful presence of Mt. Etna from every direction. Just this past Christmas, Etna spewed such smoke and ash that planes were grounded at Catania's airport.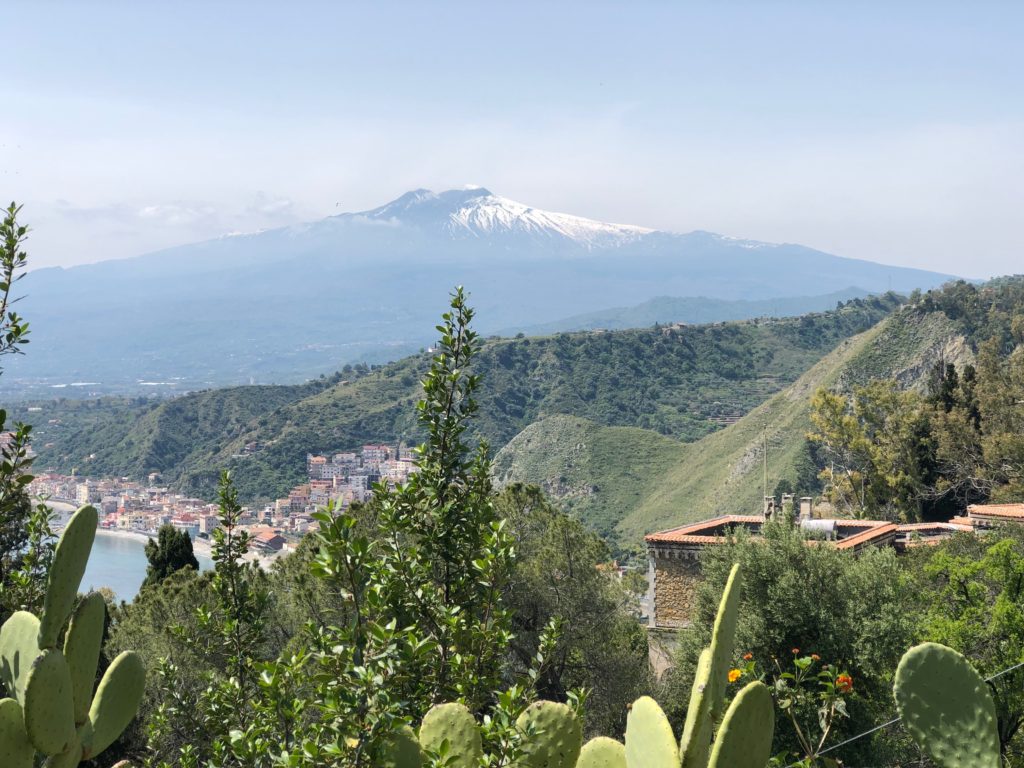 On the way to our evening destination of Mandranova, we stopped in Noto, which is known to house some of Sicily's best examples of the 18th century baroque style. We didn't have much time, as I was nervous about navigating the winding roads to Mandranova, but we walked the main thoroughfare, saw some landmarks, and grabbed a quick bite at an outdoor stand.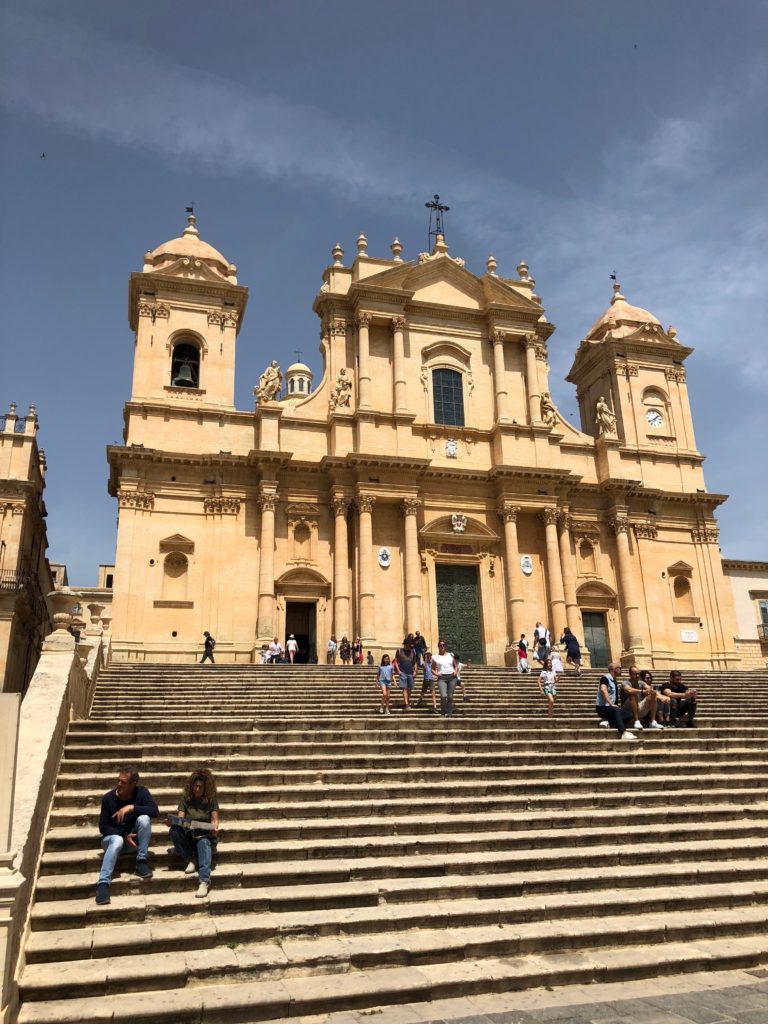 The urban sights gave way to large swaths of farmland- some covered by long white rows of tarps to protect the growing crops. We saw olive groves, orange trees, vineyards and artichokes on our way. An occasional glimpse of crystal clear blue water appeared on several of the winding turns. We arrived at Mandranova with several hours to spare before the check-in deadline of 7 pm.
Mandranova Room

Mandranova Pool

Olive trees at Mandranova
Mandranova http://www.mandranova.com is a fabulous working family farm, producing award winning extra-virgin olive oil, almonds and conserves (jams and preserves) from the trees and shrubs on its vast property. A Milanese friend recommended the resort with its 17 rooms and villas because his childhood friend Giuseppe (and Giuseppe's wife Sylvia) owns and runs the farm and resort. We ate dinner every night at the resort, served family farm style, and each dinner was a pre-set multi-course affair prepared by the cooking staff. No menu- you ate what was prepared from fresh ingredients of the day, but I suspect one course every night is always pasta. We loved everything we ate. You can separately buy a glass or bottle of wine from their good wine cellar. One night we joined the host family at their table, while other nights we sat with other guests and enjoyed meeting people from all over the world (one night our table included people from Australia, US, Belgium and Germany). The owners said that at least 1/3 of their guests are from America.
We took a cooking class at the resort and learned some new recipes, including how to make an almond torte (no flour- just almonds, sugar and egg whites), beef rolls, a pasta dish with roasted tomatoes, and a chicken dish with saffron. We brought back the recipes and have already tried the pasta and chicken dishes. Sylvia also showed us a red rice dish she eats at lunchtime with canned tuna, which she believes lowers cholesterol. It was tasty so I have also made it in Milan.
Stuffed Beef Rolls

Almond Torte (no flour)

Cooked Fennel Salad

Chicken with Saffron
After breakfast every morning, we headed out for a new adventure. One day we visited the Valley of the Temples near Agrigento, truly a highlight of our trip. The Valley includes remains of seven temples, all in Doric style. Many were first built in the 5th century BC and are among the best examples of Greek temples anywhere. Sadly, many were destroyed by conquering groups who inhabited this land after the Greeks, with the best preserved temple (Temple of Concordia) only protected because it was turned into a church in the 6th century AD, thus saving it from Christian/Catholic destruction as well.
Agrigento

Temple of the Gods
I encourage friends and family to visit the Valley of the Temples, use the audioguide, and become familiar with an amazing time in history. We loved it!
Later we visited the nearby Turkish steps (or "Scala dei Turchi"), which is a rocky cliff on the coast of Realmonte. The steps are white, made from sedimentary rock lying between two sandy beaches. The rock formation is in the shape of a staircase (giving the area its name) and designated "Turkish" steps because of the frequent raids carried on here by the Moors. We enjoyed our visit.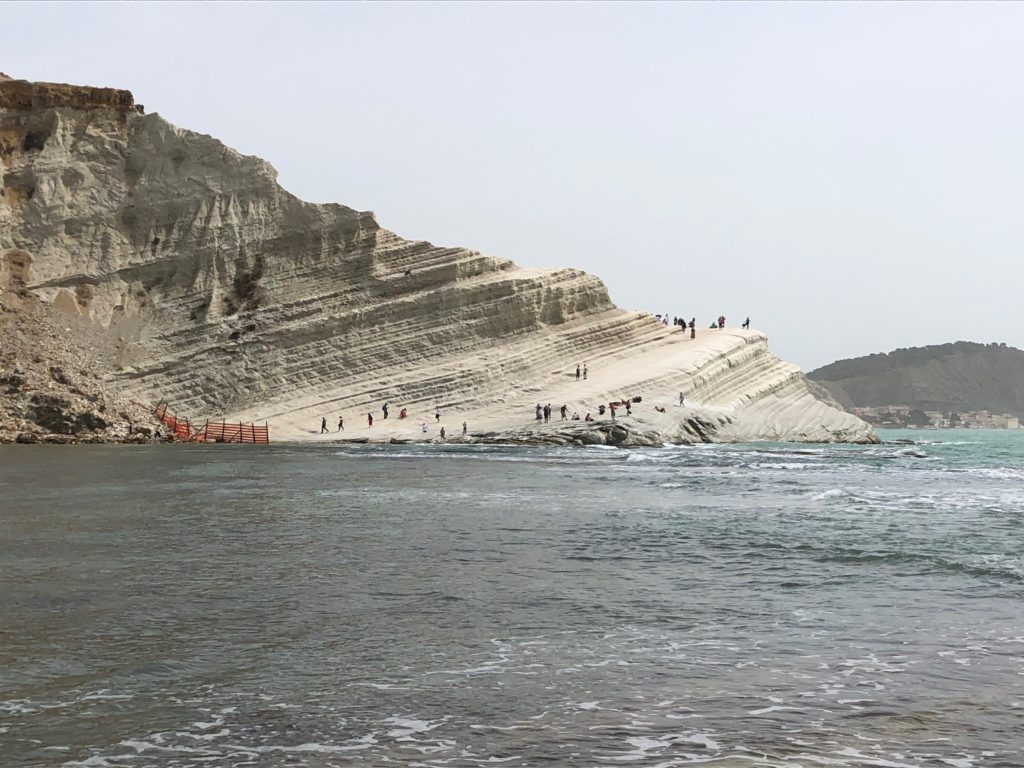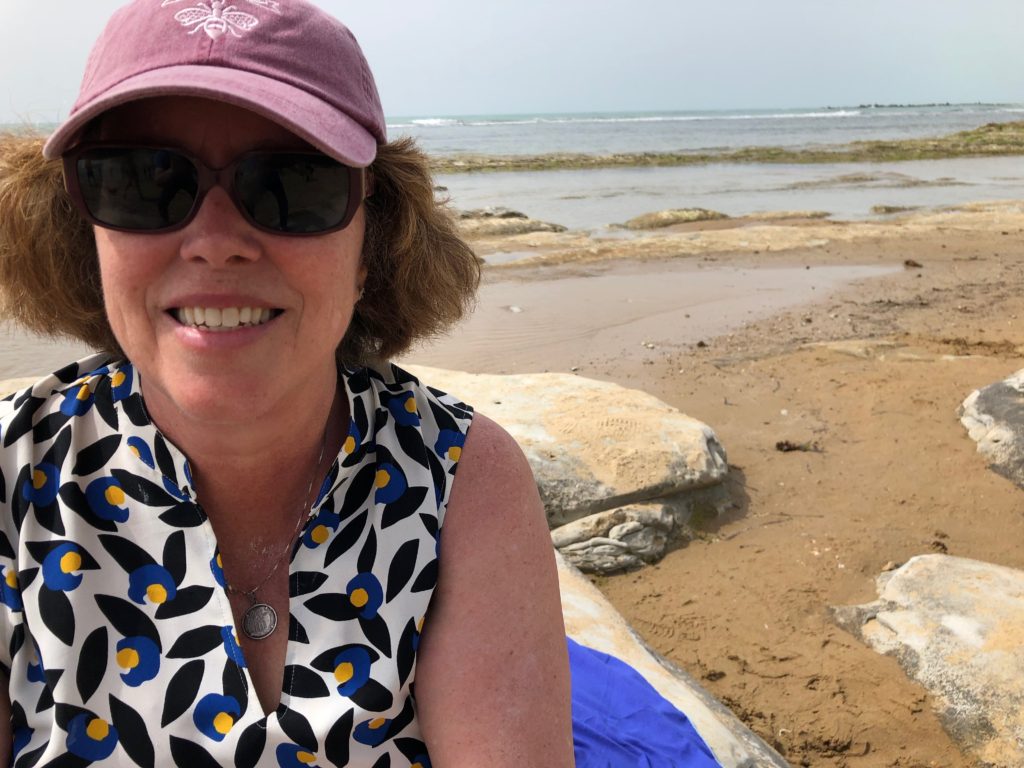 Another day we visited Racalmuto and saw where Kevin's grandfather, Guiseppe Restivo Pantalone, grew up. A dear second cousin of Kevin's welcomed us with open arms, showing us among other sights the apartment block where Guiseppe grew up, the town square, and a beautiful town sanctuary. Racalmuto is a small town on a hill with very narrow streets. Once again my navigation skills barely got us by. We left with delicious pastries from a favorite pastry shop of Kevin's cousin, happy to get a glimpse of the past from Kevin's family.
Connecting with Family in Racalmuto!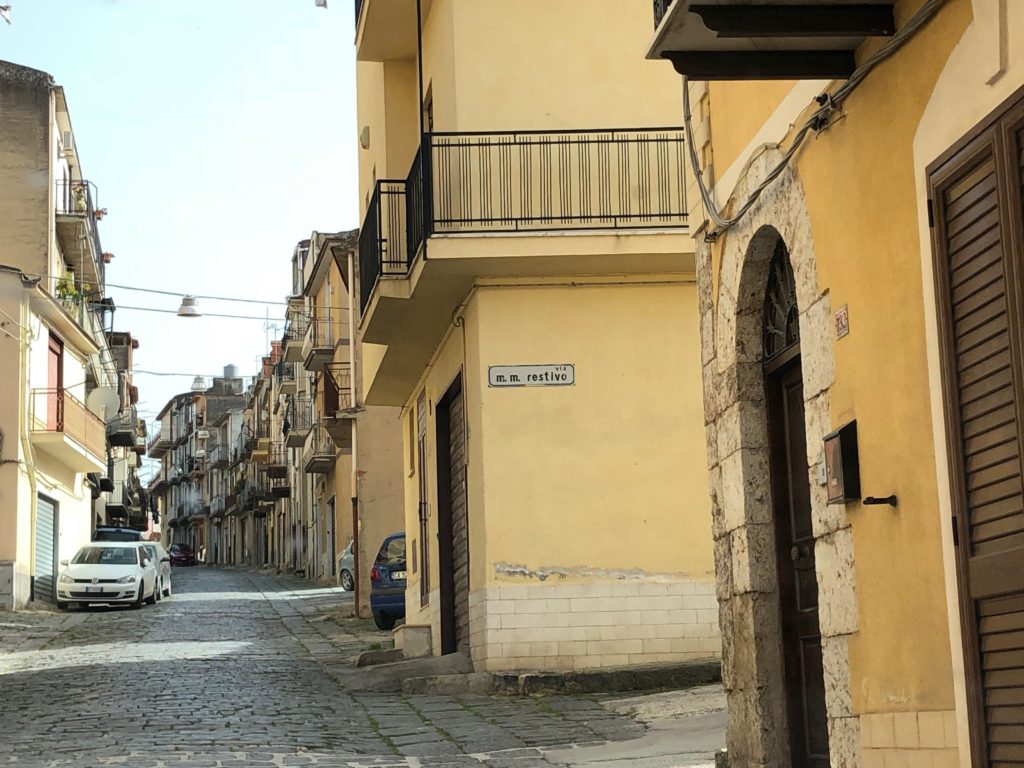 Our last significant stop was in Caltagirone, a town known for its ceramics and terra-cotta products.
The town has been inhabited since prehistoric times and was almost completely destroyed by an earthquake in 1693. We bought some ceramics and visited the main town landmark which is the 142-step "Staircase of Santa Maria del Monte." Each step is decorated with different hand-decorated ceramics. Once a year on the town's saint day (St. James, July 25), the staircase is lit up with candles of different colors.
The ceramic steps at Caltagirone
That completes my report on Sicily. We had a marvelous time and I know we will be back. We want to tour some of the islands off Sicily and to visit Palermo, where more of Kevin's relatives still live. Come join us!