We are living in Italy so our expectations about the quality of food and wine have risen exponentially over the past 8 months. Granted, access to fresh food with few preservatives means frequent trips to the markets and stores, but the trade off includes enjoying delicious produce that actually tastes like it is supposed to! Our week in Sicily did not disappoint on the culinary front. Bring on the food and wine of Sicily!
Lunch by the sea

Trattoria Il Barcaiolo
From the moment we told people we were heading to Sicily for Kevin's spring break, we heard opinions on food we simply had to try. Among the most popular recommendations were the following:
Fruit, almond, or pistachio flavored granita, served in or with a brioche. For breakfast! It's like having dessert to start your day! Did I decline the whipped cream one could include on top of the granita? No way!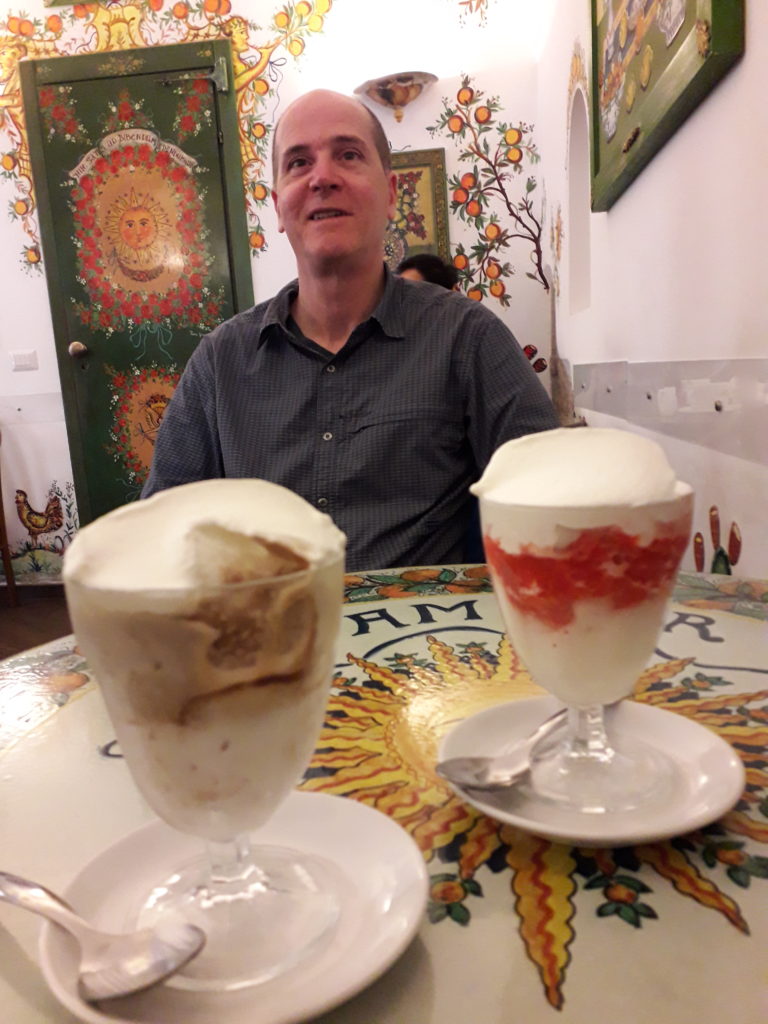 If you are unfamiliar with granita, it is made with ice, so it is a cold confectionary delight, typically made with fruit and sugar. In certain parts of Sicily when the almonds or pistachios are fresh, one can order a nutty granita where the flavor is more subtle. In a good shop you can actually feel the tiny pieces of nuts in your mouth. Exquisite! Although we visited Sicily in the spring, I can imagine on a hot, humid summer day how these treats would bring instant relief from the heat.
It is less traditional for the granita to include milk, but there were some flavors in the stores that included 'latte', such as in a chocolate flavor, but we kept it traditional. The flavors we tried over several days- strawberry, raspberry, lemon and almond. My favorite…. limone!!!
Sardines and anchovies, fresh from the Sicilian shorelines! I have always enjoyed anchovies, while Kevin barely tolerates the sight or smell of them. Sardines are not a fish I have eaten much, but I give Kevin credit. We were told that the sardines are served differently and taste nothing like the way they are served elsewhere (partly due to their freshness in Sicily, I'm betting), and we were told we simply had to try them, so even Kevin gamely agreed to give it a go, and we are both so glad we did. Our friends and family were right! They don't take fishy and are nothing like the ones from home!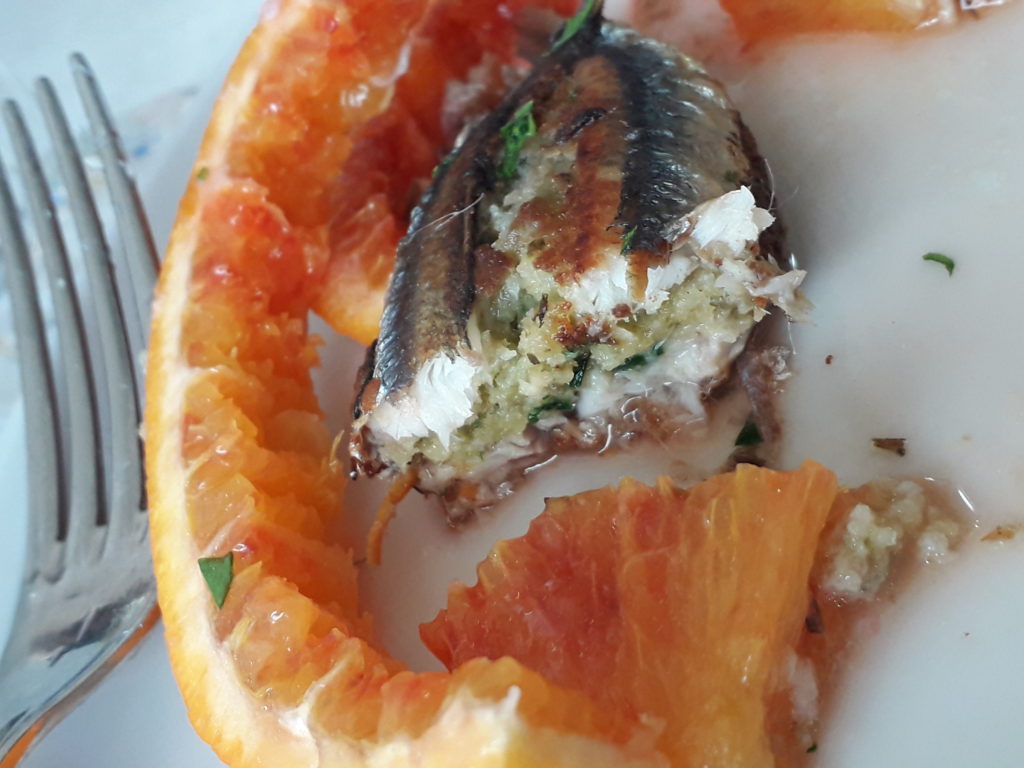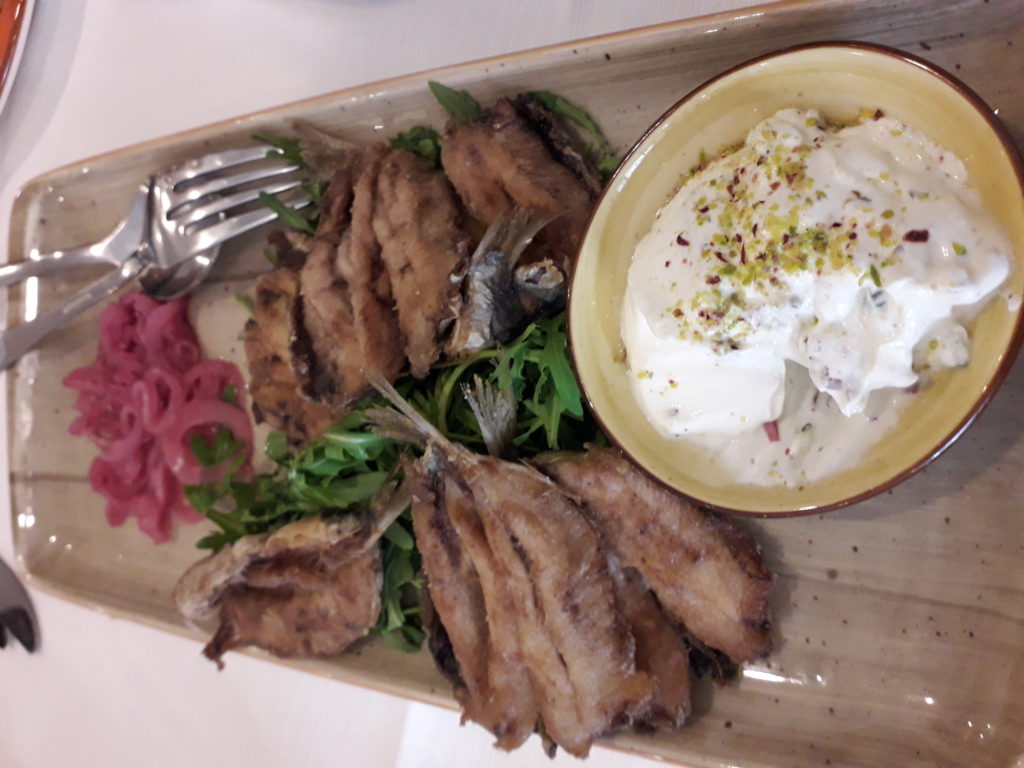 We tried sardines in olive oil, sardines split open and butterfly fried with a light breadcrumb topping (you eat them, bones and all), and sardines stuffed with breadcrumbs, pistachios, Parmesan cheese and other goodies ( this way of cooking them, we were told, is a Sicilian specialty). We also mashed up anchovies into a paste with salt and olive oil for a stuffing used in beef rolls we made in a cooking class we took.
Orange and fennel salad. The Sicilian oranges are used in many dishes, as is fennel when it is fresh. We had raw fennel in salad, and cooked fennel in a side dish with chicken (again, made in our cooking class). The fennel did not taste bitter as I imagined it would.
Fresh fish. We tried red snapper and swordfish. Sauces included a classic Sicilian combination of tomatoes and capers. Anything from the sea is common in Sicily. I also had linguini with clams one evening, as well as calamari and shrimp another time.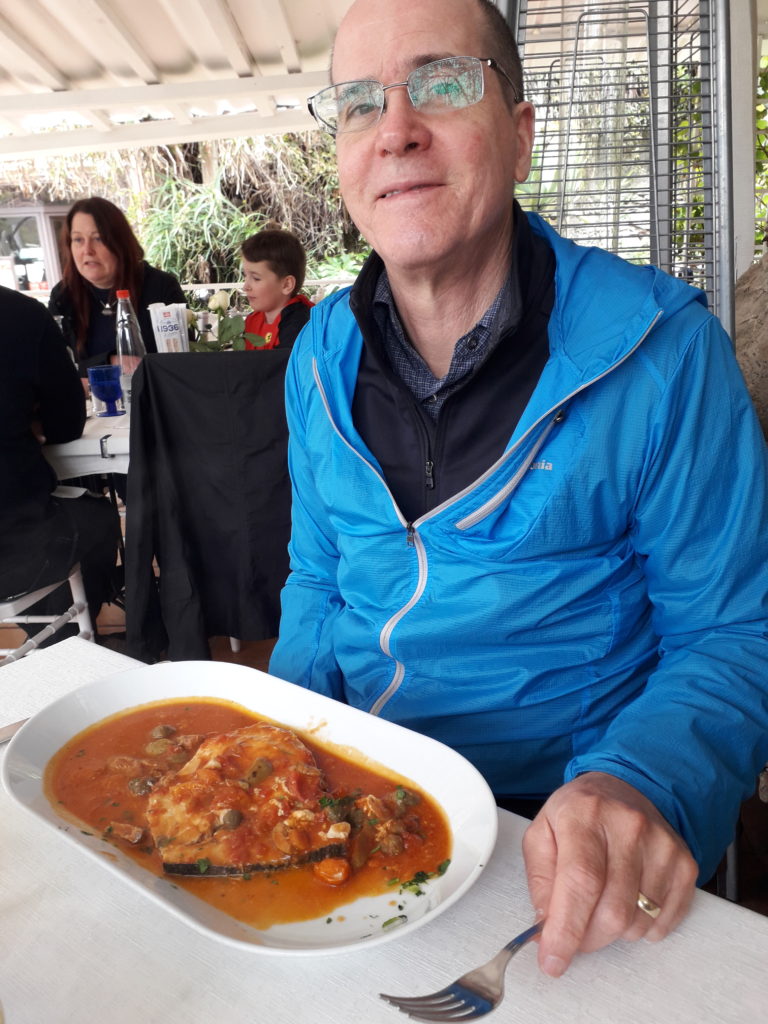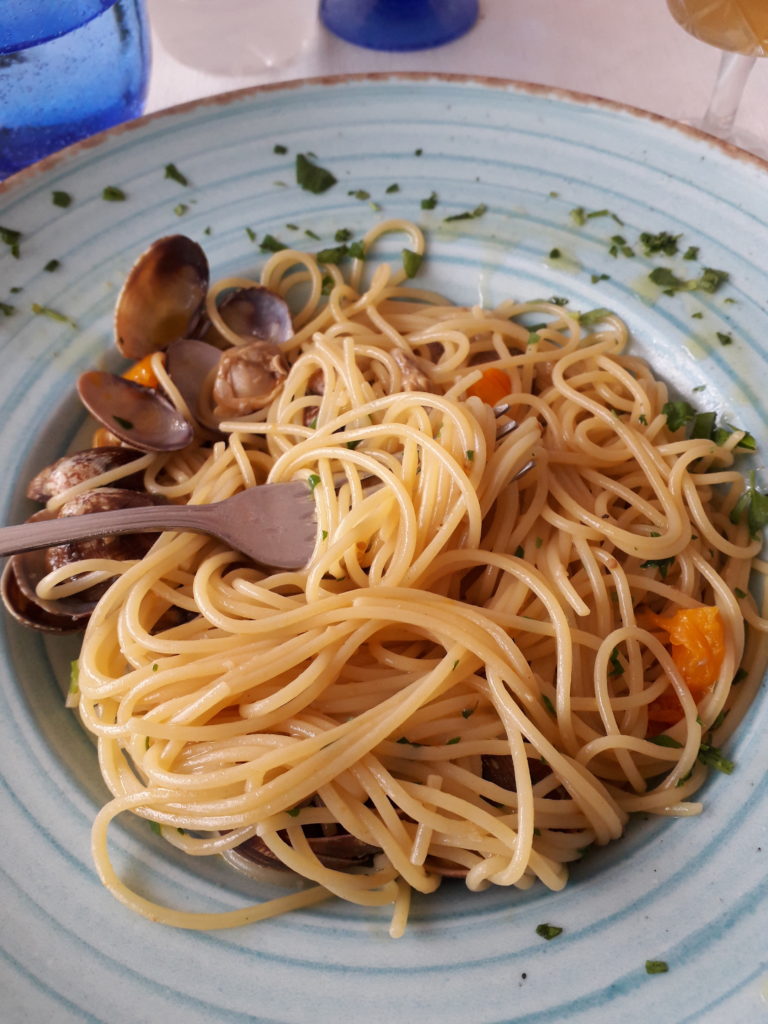 Caponata. This is a Sicilian eggplant dish consisting of chopped fried eggplant, celery seasoned with sweetened vinegar, and capers in a sweet and sour sauce. It is served as a side dish virtually everywhere in Sicily, and it appears that every restaurant puts their unique spin on the dish. At the restaurant where we ate it, the dish included almonds and chocolate (not a sweet taste- more like the way mole' is used in a traditional Mexican dish).
Fried vegetable pancake or fritter-looking side dishes. We had zucchini 'pancakes', and at Kevin's cousin's house, we also tried one that we think included fennel.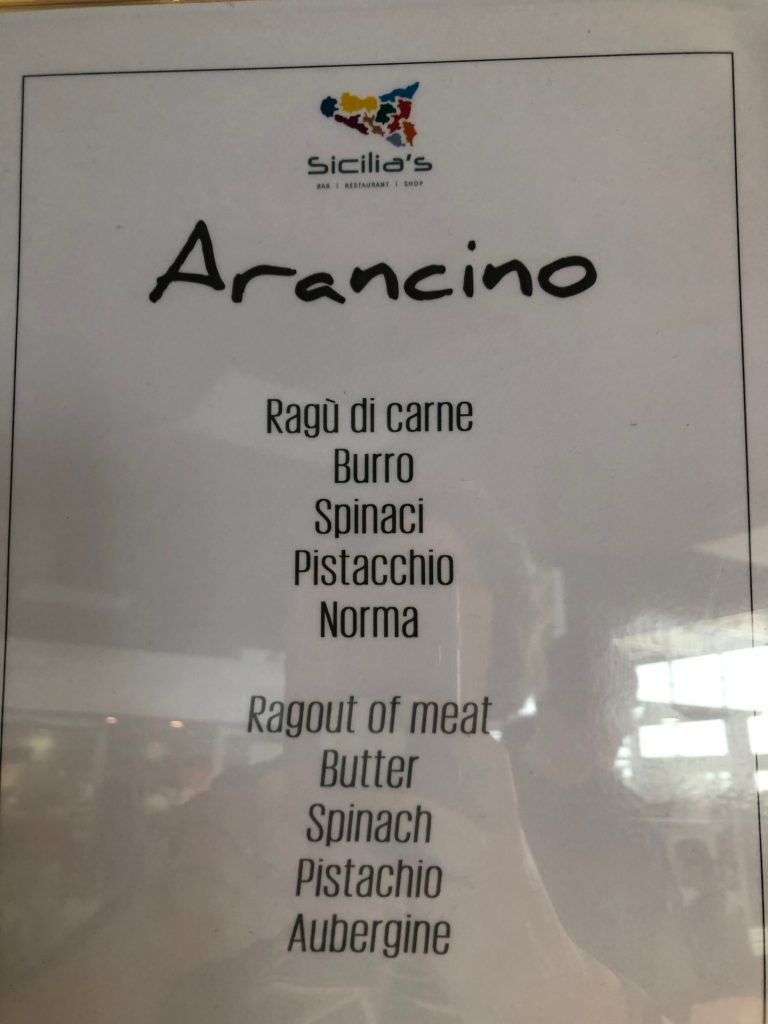 Arancino. Fried rice with filling- another Sicilian dish.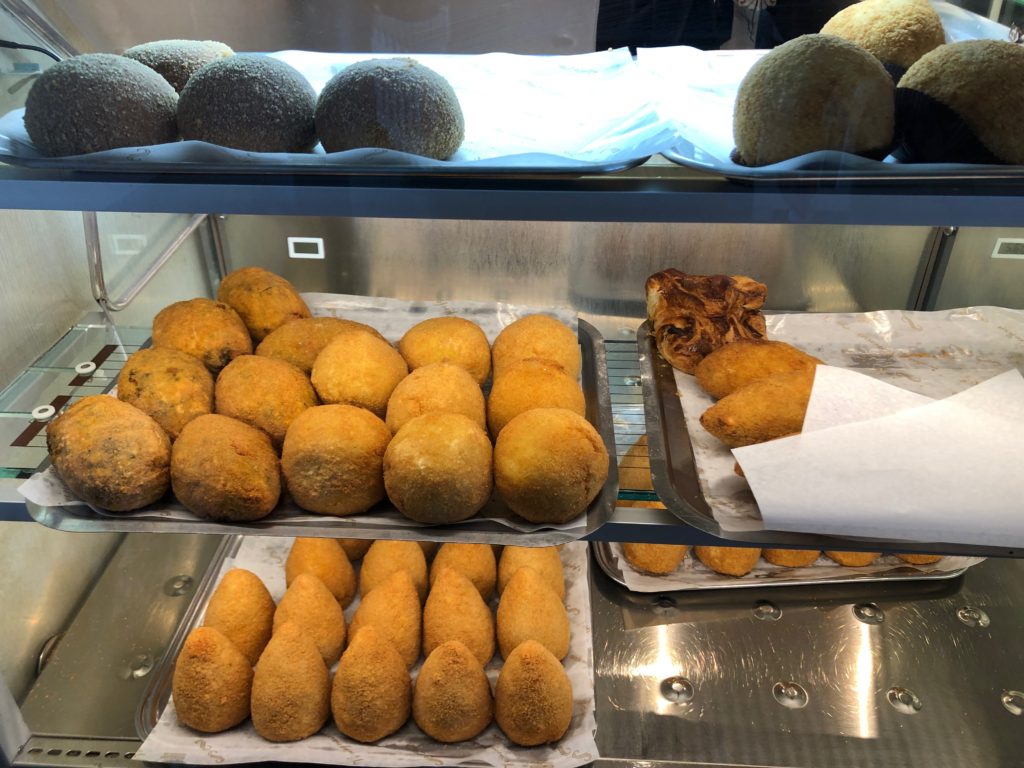 What else did we try? Among other things, we tried bruschetta with olive pate', onion pate', polpette (veal meatballs) on lemon leaves, caprese salad, cucumber salad, pasta (or course!), lamb, and a delightful Sicilian dessert called cassata.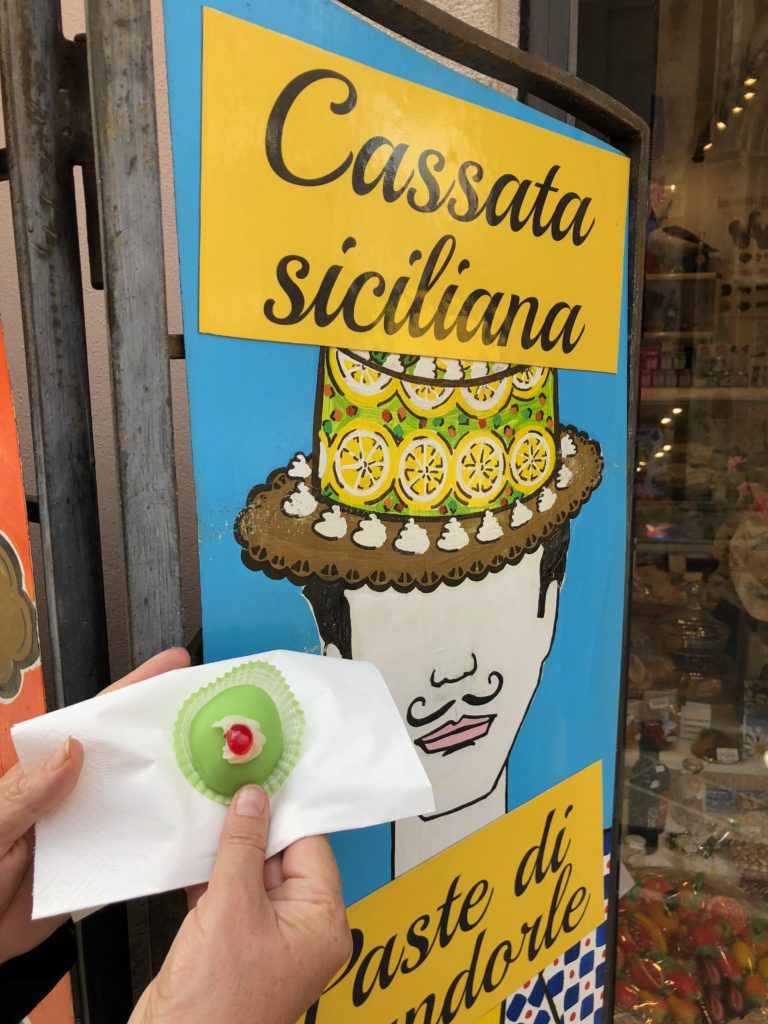 Cassata consists of a round sponge cake moistened with fruit juices or liquor and layered with ricotta cheese and candied fruit, which is a filling also used with cannoli. The only dish recommended to us that I didn't try were the fresh sea urchins. I just couldn't do it!
Desserts were all delicious. Here are some pictures of a few of the choices we had.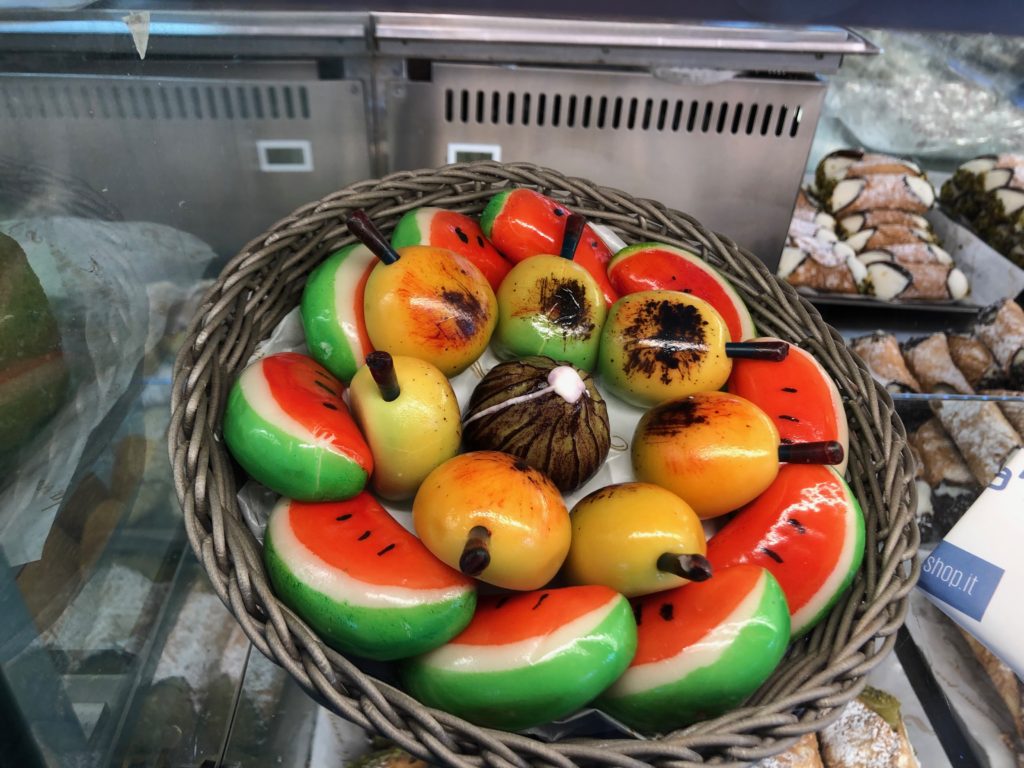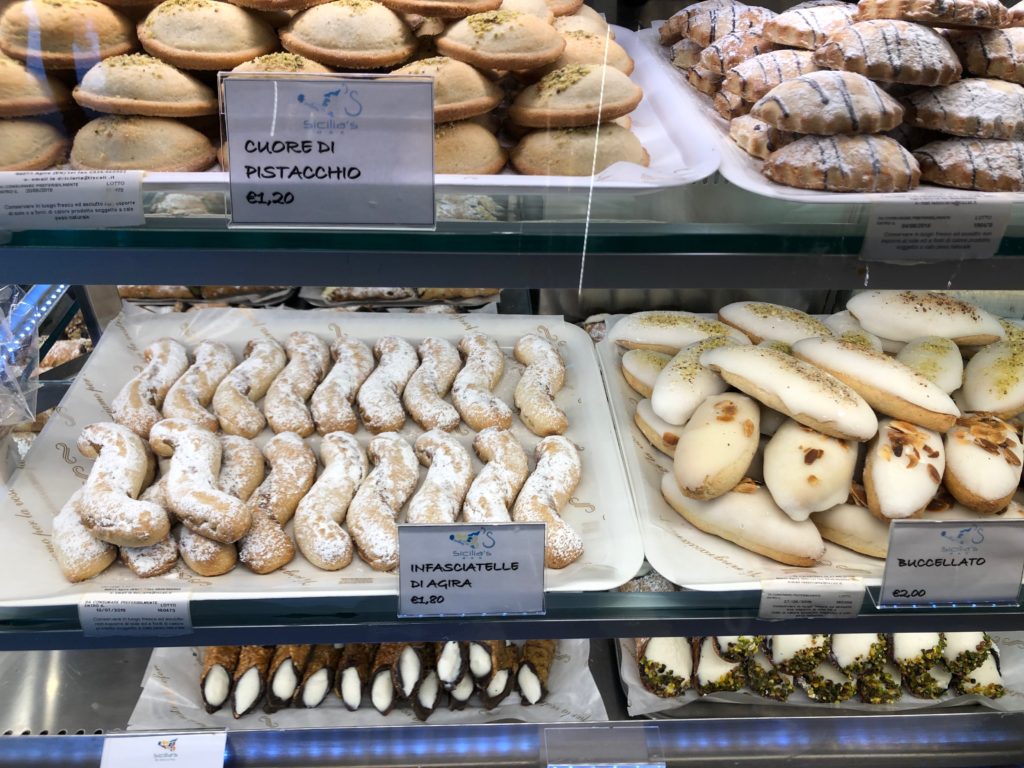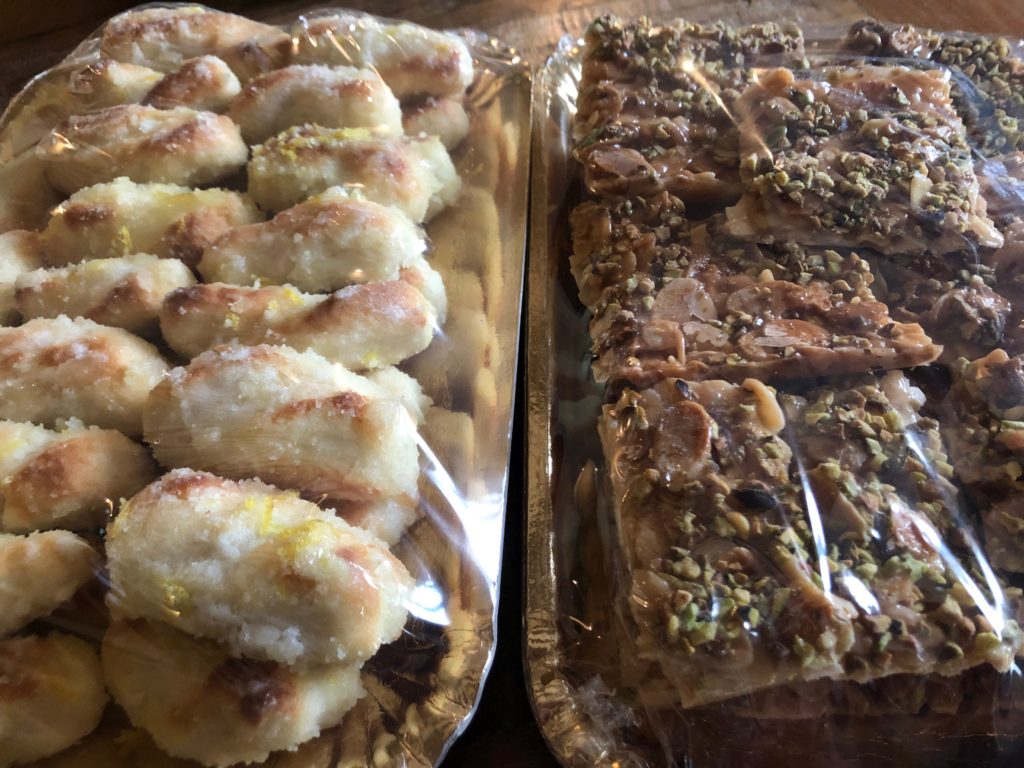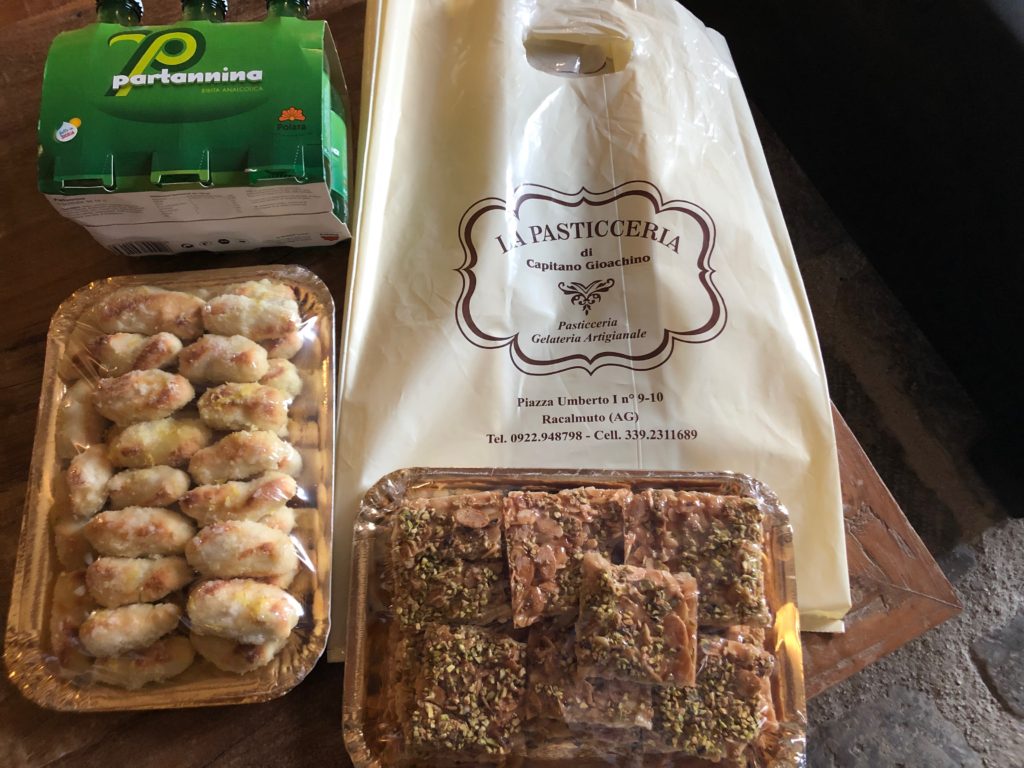 Recommended restaurants:
We had either a house wine or recommended bottle for virtually every lunch and dinner, and even drank a red wine with fish, as many do in Italy. We stayed at an agritourism farm near Agrigento (more about that in another blog), which meant delicious olive oil, wine, almonds, and fresh simple Sicilian dishes daily. This is also where we took a cooking class. The food and wine were outstanding everywhere, so I am including the stand-out restaurants for you to consider if you come to Sicily. Despite the hours of walking we did daily, I definitely think we gained weight on this trip. I don't mind- it was worth it!
Rosmarino.http://Www.rosmarinotaormina.com Wine served with fish, on recommendation from waiter: 2017 Frappato- IGP Terri Sicilian. Catalans Viticolteri. Gela- Caltanisseta. Good. Via Bagnoli Croci 88B, 98039 Taormina. Tel +393356472883
Tre Quarti (or 3/4uarti), where we ate for Easter. Salita Guglielmo Melivia, 7, 98039. Taormina, Italy. +393512874780. No website.
BamBar Taormina for breakfast granita. On Facebook. Via di Giovanni, 43, 98039. Taormina, Italy. No website.
Trattoria Il Barcaiolo. http://www.barcaiolo.altervista.org Taormina by the sea- beautiful small cove. Only accessible by shoreline and with many steps down from the upper road. On rough day/high tide, I doubt you can get there, but it was terrific and came recommended by a Sicilian teacher friend of Kevin's.
We will definitely return to Sicily, and will continue to sample the regional specialities. Maybe the next time I will be brave enough to try the sea urchins! Come join us!