Our stated purpose for two summer weeks in Sestri Levante was to attend an Italian language school http://www.abcschoolsestrilevante.com, but escaping the scorching city heat became equally important as our un-air conditioned Milan apartment climbed into the 90's during July!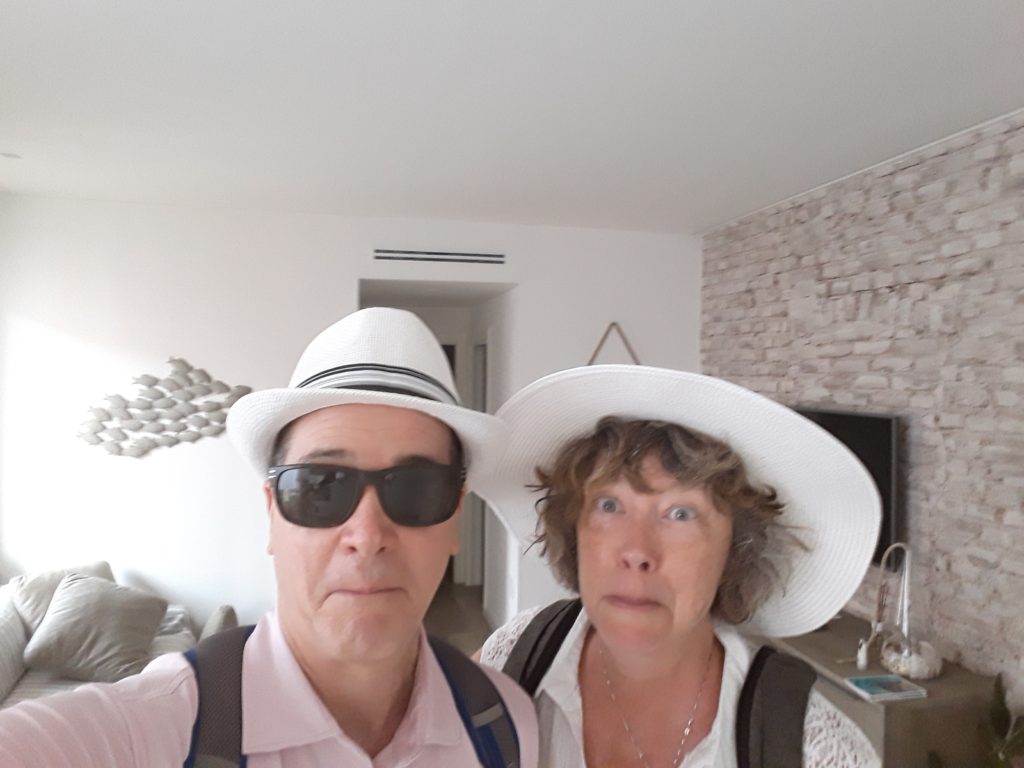 We rented an air conditioned AirBnB near the train station, which was about a 10 minute walk to school. We had ample space, a nice balcony to hang our wet bathing suits, and even a tiny washing machine! I only blew our fuse once, when I tried to run the washing machine while cooking pasta and making coffee (with the air conditioner on, of course). Lucky for me, Kevin explored the ground floor, found the old fashioned fuse box in a closet, and order was restored.
With no elevator to reach our 'third' floor apartment (which in American-speak, is the fourth floor, because in Italy the ground floor is considered the 'zero' floor- makes sense, doesn't it?), we walked up the four long flights of stairs multiple times a day, my heart racing and my legs getting a good workout every time. One of the students we met at the school stayed at a campsite, which would have also been fun, but I enjoyed the air conditioning too much to give that up!
Upon our arrival to the town, we explored and found our school, located just steps from the Bay of Silence, one of the two bays surrounding Sestri Levante.
Our school entrance is on the right

A School with a View!
Sestri Levante began as a tiny island on a hilltop that eventually became a peninsula. It is in the region called Liguria, with the capital of the region being Genoa, a short train ride north of Sestri Levante. On one side of the small town is the Bay of Silence ( so named due to its tranquil, shallow bay where small children can enjoy the calm water while parents sit nearby or soak in the water). There is another bay called the Bay of the Fables, named in honor of Danish fairy tale author Hans Christian Anderson who came to Liguria for an extended stay in 1833 as a 28 year old and fell in love with the bay and the town.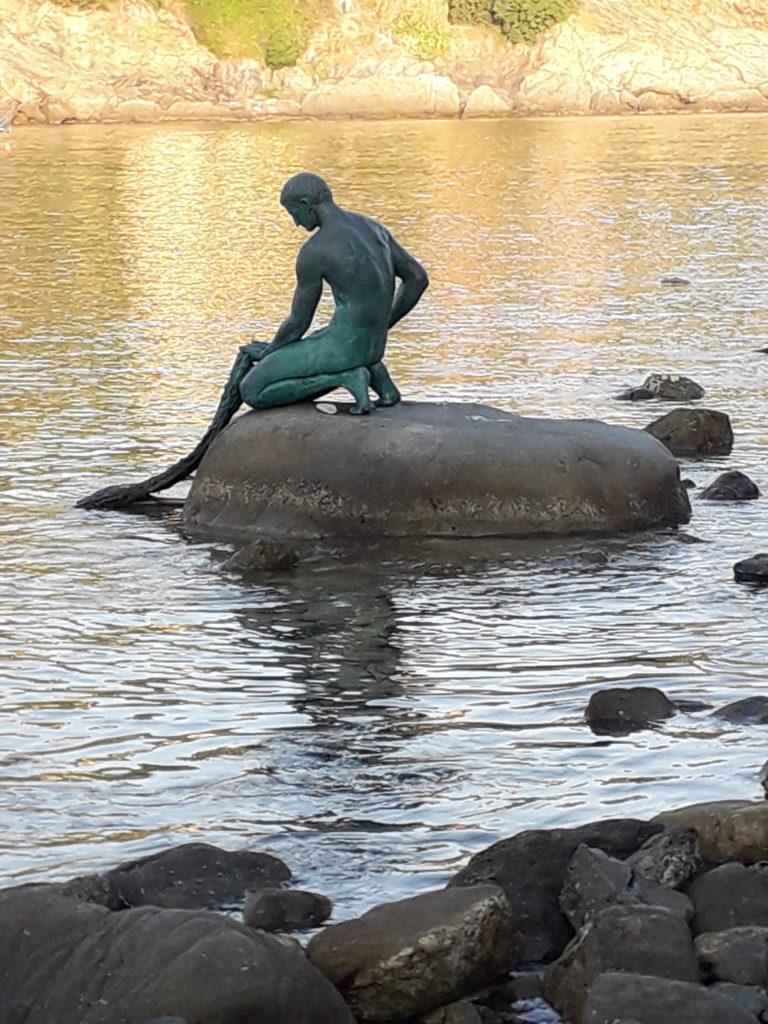 We ate an excellent dinner along the shore one night at the outdoor restaurant connected to the Miramare hotel http://www.miramaresestrilevante.com, listed in the 2019 Michelin guide, called the Restaurant Baia del Silenzio. Another night we ventured to a restaurant at the top of a nearby hill, the Restaurant Olimpo, also mentioned in the Michelin guide and connected to a high end hotel http://hotelvisavis.com where we could see both bays and the town from high above. These are a few of the more expensive restaurants in town, but we splurged several nights to enjoy the views and the excellent Ligurian cuisine emphasizing fresh seafood and delicious regional white wines.
Gazpacho with a raw shrimp!

Delicious salmon

The Bay of Silence from above
This is a kid-friendly tourism town, and we were told that a lot of Milanese have second homes here, or they come with their kids in the summer and rent apartments, enjoying the beach, the pizzerias and gelaterias everywhere. We heard almost no English anywhere- this is an Italian vacation spot, also with a healthy number of Germans and Swiss who have found the area and visit in the summer with their families.
Focaccerias and gelaterias in Sestri Levante are as ever-present as coffee bars in Milan, and like all good locals, we found our favorites of each and returned to them almost daily. The Ligurian focaccia is as good as I imagined in my best dreams.
Each morning we would stop off for a freshly baked slice of focaccia (with Ligurian green olives pressed into the crevices of goodness that also had olive oil and sea salt spread atop a brown, crisp, warm surface), followed by a quick stop for a cappuccino at a coffee bar (which we also drank like all good locals, standing at the bar) before arriving at the school.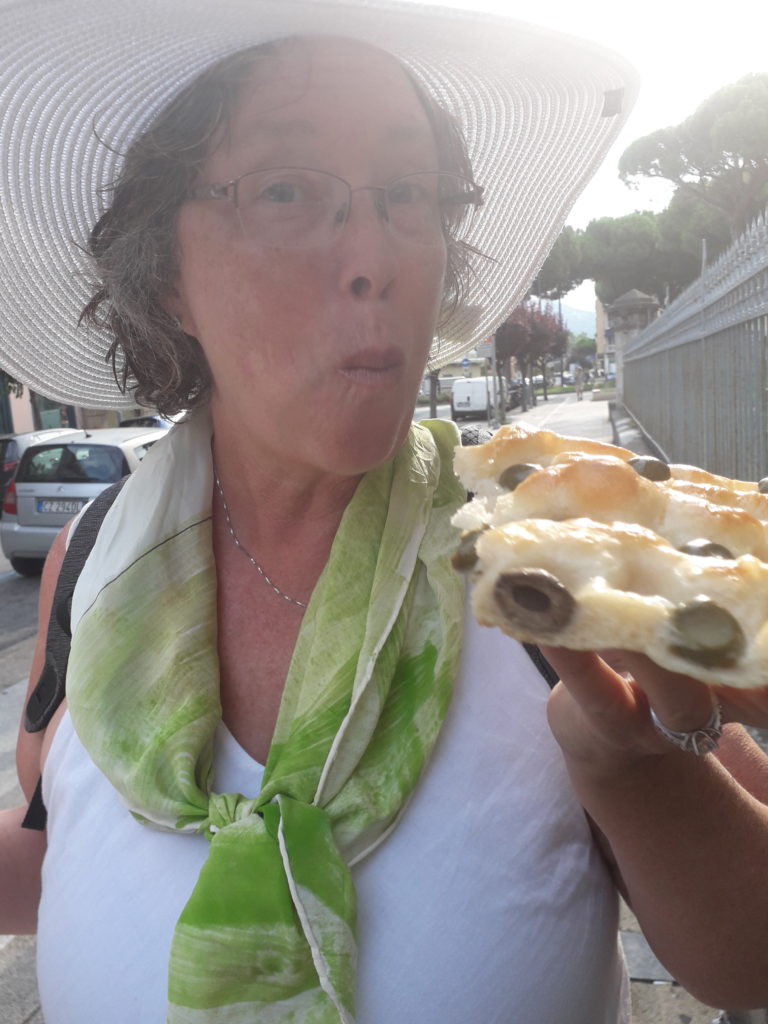 We were given a recommendation for a gelateria that uses 100% natural products, and I swear, among the absolute tons of gelato we have had everywhere, this was the best. OMG. My favorite flavor was 'la ligura' which consisted of the best nutty hazelnut gelato flavor ever. YUM! If you decide to visit Sestri Levante, we can give you additional restaurant recommendations, such as Balin, Verve, and a simple pizzeria that has a focaccia pizzata that Kevin had so many times over the 2 weeks that the waiter laughed on our last night there, saying he knew what we were going to order because we ordered the same thing every time. We are creatures of habit!
I recommend the school for beginners and more advanced learned alike. The first week we were the only English speaking students- our classes included people from Switzerland, Germany, Poland, Korea and Denmark. The school is several floors up in a building mere feet from the shores of the Bay, in a former elementary school (one of the teacher's parents went there!). I knew the least Italian grammar of all the students there the first week, so after a frustrating first Monday grammar class featuring the 'passato prossima' that had me questioning what the heck I was doing there, the director hastily rearranged my schedule and allowed me to be in a class by myself for grammar for the rest of the week, which calmed me down and let me settle into a routine. My grammar teacher was a 28 year old, bright and patient woman who stuck with me for both weeks and I learned a lot from her. I thought of Kelly when Kelly spent a summer in Spain earning a teaching certificate to teach English as a second language- it takes talent, patience and a passion to teach beginners week after week, when they come to you with varied knowledge and ability.
Each day we had 90 minutes of grammar, followed by a 30 minute break and then another 90 minute lesson in conversation. We could sign up for afternoon or evening activities hosted by the teachers, so we participated in the following:
tour of Sestri Levante
tour/ferry ride around the Cinque Terre (Italian for five terraces)
day hike along a former train track, swimming and visiting towns along the way
pizza night with students
origami class to practice Italian imperative commands (such as cut! turn over! fold!)
a class and film about the mafia history and influence in Italy
hike to Porta Manara, a nearby point for beautiful views (Kevin did this while I stayed home and did homework!)
visit to Camogli
We (or I, mostly) had homework every night ('compiti'), which I needed. The teachers were bright, pleasant, and good- I must be forced to practice speaking Italian because otherwise I will quietly listen, so the conversation part is a necessary part to my education.
I am glad we came and I thought the classroom sessions were very helpful. The school is based in Florence, but I'm glad we were in a quiet town, able to explore the Ligurian coast. More on our excursions to follow!